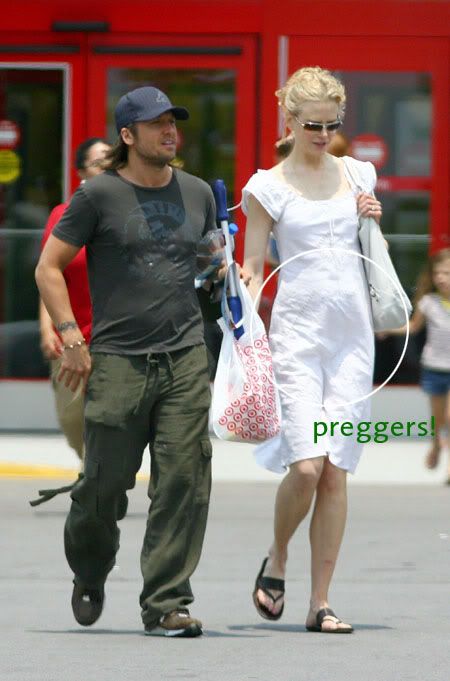 Nicole Kidman and Keith Urban drove their Bentley to Target near Nashville to pick up some sort of cleaning device. Keith went casual in a t-shirt and cargo pants while Nicole looked fresh and lovely in a white sundress and sandals. People thought that the pregnancy rumors could be put to rest when a far-away picture of Nicole in a bikini on her honeymoon came out. Her stomach looked toned and muscular, but if you squint hard enough you can still see a bump. Now she seems even more pregnant in this flowy dress. The wind could just be blowing her dress out, but it looks like she's pregnant to me.
The Sun quotes a "source" as saying that Nicole has a bump, but their source is probably someone looking at the pictures just like us:
Rumours that newlywed Nicole Kidman is expecting her first biological child gathered strength after she was spotted with a little bump.
A source said that Kidman, who was out walking with her new hubby country singer Keith Urban near their home in Nashville when her bump was spotted, said that the couple did look as if they had some happy news to share with the world.
"It does look like they might have some good news to announce. Nicole looked stunning and definitely had a bump," The Sun quoted the onlooker, as saying.
Reader Millie says Nicole and Keith go to the gym a lot, but that doesn't mean that Nicole isn't pregnant. We'll keep saying it as we wait for Nicole to really show. She's supposedly had two miscarriages, so if she's really pregnant she'll wait to announce it until she's much further along.