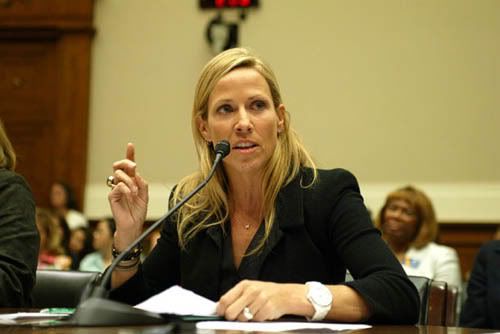 Several celebrities have visited Capital Hill in the past two weeks to testify and represent causes. In many cases the celebrities went through tragedy and adversity and became committed and knowledgeable about issues that personally affected them. In other cases they became involved with specific causes they feel passionate about. Either way, they're bringing attention to important issues and making a difference. I'd rather see a celebrity testifying in front of a committee than shopping, eating out, or worse getting a DUI, but unfortunately the latter get a lot more attention.
5/21/08: Breast cancer survivor Sheryl Crow testifies in front of the House Energy and Commerce Committee's health subcommittee to support a bill funding breast cancer research. Crow emphasized that she has no family history of breast cancer, and said "I want to know what causes this disease. We need to put more resources into figuring out what the environment has to do with breast cancer." [Paraphrased from Houston Chronicle. You can view Crow's testimony as a Real Media file thanks to C-Span.org]
5/21/08: Michael Douglas meets with Indiana Senator Richard Lugar at The Capitol to urge him to prevent the spread and use of nuclear, biological and chemical weapons as a director of the Ploughshares Fund organization [Description verbatim from WENN]
5/20/08: United Nations Populations Fund (UNFPA) goodwill ambassador Geri Halliwell and Care ambassador Christy Turlington hold a rally and press conference with congresswomen and fistula survivors. They urged support of a new bill promoting maternal health throughout the world. [Details paraphrased from Baltimore Sun]
5/14/08: Ed Norton testifies in front of the The House Select Committee for Energy Independence and Global Warming. He is a trustee of Enterprise Community Partners, which was founded by his grandfather and builds affordable homes using green building practices for low income families. He said "The legacy of my generation is going to hinge on how we respond to these revelations that we're not living sustainably, and that we're altering the environment." [Quote and details paraphrased from Peopletreefilms. Video is available on Globalwarming.house.gov – scroll to the last video in the list]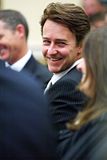 5/14/08: Dennis Quaid testifies in front of the House Reform and Government Oversight Committee urging Congress not to support a measure by the drug companies that would make them immune from lawsuits. He is suing company Baxter Healthcare Corp after a known second preventable mixup in which his newborn twins almost died after being given 1,000 times the dosage of Heparin, a blood thinner. Batches of Heparin have since been recalled for an unrelated incident in which the drug became tainted at a manufacturing plant in China, resulting in 19 known deaths. Dennis Quaid's twins are healthy at five and a half months old, and are not thought to suffer lasting effects from the near-fatal overdose. [Details paraphrased from MSNBC. Quaid's testimony is available on House.gov as a PDF file and the video is available as a Real Media file from C-span.org]
5/8/08: Cancer survivor, founder of a cancer advocacy nonprofit organization, and seven time Tour de France winner Lance Armstrong, testifies in front of The Health, Education, Labor and Pensions Committee on Cancer: Challenges and Opportunities in the 21st Century. [From Senate.gov, where there's also a video of Lance's testimony]
Thanks to WENN for these photos.