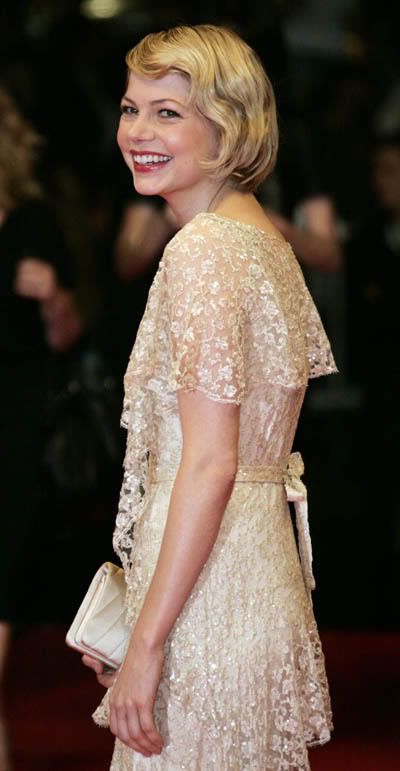 Michelle Williams, 27, made her first red carpet appearance since her daughter's father, Heath Ledger, died of a prescription drug interaction on January 22. People Magazine reports that she made a last-minute decision to fly to Cannes to promote her film, Wendy and Lucy. She wore "vintage Chanel Haute Couture" to the premiere of the film last night, and appeared refreshed and happy at a photocall with her co-stars today.
"It was decided on Monday night that she could come to Cannes, and she got on the next plane to arrive just in time to get dressed and come to our premiere," said a rep for Wendy and Lucy. "She came in and had a long nap and then came to the screening."

Williams, 27, was radiant in a vintage Chanel Haute Couture dress. She will remain in Cannes at least through Friday night to promote another festival movie in which she appears, Synecdoche, New York, before flying back to the United States to resume filming a Martin Scorsese movie in Boston.
[From People]
Williams is the star of the film Wendy and Lucy, which IMDB describes as "a narrative feature about woman whose life is derailed en route to a potentially lucrative summer job. When her car breaks down, and her dog is taken to the pound, the thin fabric of her financial situation comes apart, and she is lead through a series of increasingly dire economic decisions." Williams' performance has been well reviewed. Cinematical notes that she didn't attend the screening for the film, and that it is thought that she attended the screening for Adoration next door.
I love her hair like that, it's lovely in soft controlled waves. She looks beautiful and relaxed, and this seems like a good time for her to resume her career and start making public appearances again.
Also shown at the photocall are Samantha Morton, Philip Seymour Hoffman and Catherine Keener. Thanks to WENN.