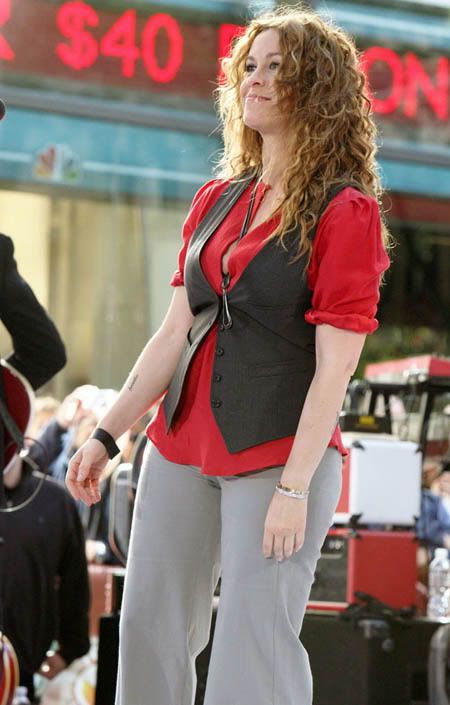 Alanis Morrissette performed her hit "Ironic" along with a new song, "Underneath," on the Today Show this morning. Alanis' new CD Flavors of Entanglement is out in the US on June 10 and internationally on June 2.
Alanis recently revealed to People Magazine that she's been going through a tough time the past two years. She said she "hit rock bottom" and that she "took a break over the past two and half years." and "was tending to [her] personal life." She said she got through her depression with "everything from pounding pillows to sharing with intimate friends."
Alanis was engaged to actor Ryan Reynolds, but their relationship ended last year and may have contributed to the problems she went through. Reynolds is now engaged to actress Scarlett Johansson. Alanis said that she's dating someone, but isn't ready to share his identity just yet.
Here are videos from Alanis' performance on The Today Show this morning. She can definitely still bring it, and unlike a lot of other singers out now (*cough* Ashlee Simpson *cough*) she has unique vocal style and a very strong voice. I hope this album is a big hit for her.
It's hard not to notice that Alanis has gained some weight, and is not styled very well. She's a singer, and as long as she sings well and puts on an entertaining performance that's all that matters. You can see the vulnerability in her and the way she seems touched by the crowd's response to her. You want her to do well. She's incredibly talented and is giving her best.
Alanis did a concert tour as a special guest with Matchbox Twenty and Mute Math from January to March of this year. She will headline her own tour of North America later this year.
"Underneath"

"Ironic"

Thanks to WENN for these photos.