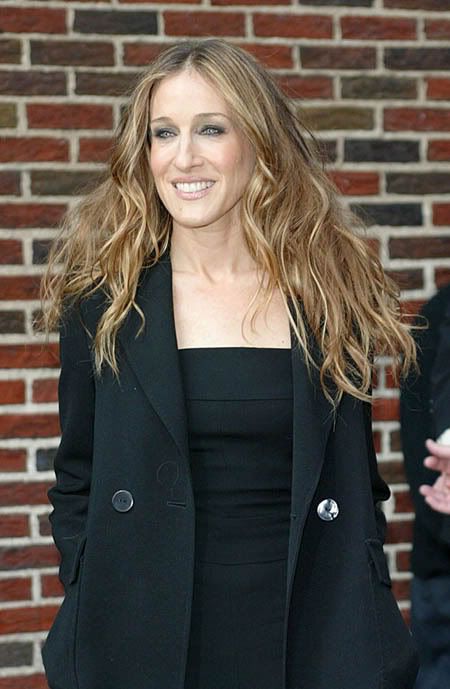 Sarah Jessica Parker was on David Letterman last night. She told a cute story about how her five and a half year-old son, James, asked her politely when she returned from her European appearances for the film is she brought him a present. Dave asked whether Parker, 43, plans to have another child and she just started laughing and didn't answer the question. Dave said she smelled great and asked about her perfume and she said it's a "genderless" fragrance she's developed that's supposed to work for both men and women.
Then Parker said she loved the "Peidmont Bird Callers" from Johnny Carson's show. She proceeded to demonstrate a bird call for a rare bird called the "Bleeker Street Purple Beaked Zinglander" that she had perfected and that was pretty fun.
After the break they started talking about the Sex and The City movie, which is out in the US on May 30th. Dave teased Parker about the hat she wore to the London premiere. Then Dave let slip a major spoiler for the film, and Jessica was kind of shocked that he said it. It seemed to me from her reaction that Dave didn't tell her ahead of time he was going to reveal the spoiler.
———————spoilers follow———————
Dave: "How did the premiere go in London. I have seen the film, and I know who dies in the movie, but I won't."
SJP [looks away with open mouth]: "Unbelievable."
Dave: "Sorry, you're not supposed to – I think people know that somebody dies."
SJP [still kind of shocked] "Well they do now.
"I'm going to tell you this… We really wanted to give the audience everything they thought they wanted, and everything they didn't know they want. And yes, all four of us die, but I didn't want to say anything else… it's pretty surprising when we die. But the next four women are amazing."
Damn! I can't believe Dave did that. This is the first I've heard of anyone dying in the film and I read entertainment news all day. I love reading spoilers, though, and I'll read the whole plot outline on Wikipedia for a favorite show before I get a chance to see it. For a lot of people it's a major letdown to know what happens before they see a movie or show, though, and Dave should have known better than to say that someone dies in the film. Now I want to see it more, because I really want to know who dies!
Sarah Jessica Parker is shown outside the Late Show yesterday. Thanks to WENN for these photos and Redlasso for the videos.
Sarah Jessica Parker on The Late Show, 5/22/08, Part 1:

Sarah Jessica Parker on The Late Show, 5/22/08, Part 2: