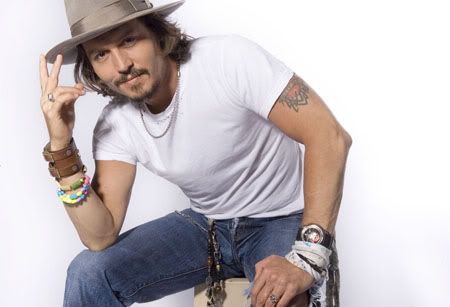 While looking for pictures of Johnny Depp, I found this hot recent photoshoot by Matt Sayles:
Actor Johnny Depp poses in Beverly Hills, Calif., on Thursday, June 22, 2006. With the second "Pirates of the Caribbean" picture in theaters July 7 and filming nearly finished on the third, Depp is preparing to say goodbye to his iconic pirate persona, Captain Jack Sparrow.
Depp won't say which of his characters he identifies with most. Although people have praised his role as Cap'n Jack Sparrow, he says all of his characters are close to his heart. He also says he doesn't take work just for the money:
"John Waters said he thinks Captain Jack is actually, of all the characters you've played, the character closest to you," Cagle asks, laughing. "Is there, first of all, why would he say something like that, is there any truth to it?"
"I'll never reveal the truth … I cannot and will not say. No, I think with all the characters, you know, they're still in there, you know. Ed Wood pops up every now and again," says Depp. "Captain Jack, certainly. Closest to me? You know, maybe. It's hard for me to say."
"After you left television and you were trying to do movies that you were passionate about, was it ever really hard to say 'no' to more money or 'no' to bigger movies and really follow your heart?" Cagle asks.
"Oh, yeah. definitely," Depp admits. "There were moments when, you know, sort of, whopper buckets of money were offered, where, you know, even in sort of your purest state you are tempted, you know? There is that temptation. But that's important to go through. I always figured that if there was gonna be money, you know, if I was able to stick it out, it would come later, you know? So I was patient. I couldn't do the work for the money. It couldn't be about that."
Depp is certainly popular enough to be picky about his roles, and his choices have served him well as an A-list actor. Although Depp won't admit which of his characters is his favorite, he did make the tattoo of a sparrow he sported as Captain Jack Sparrow permanent and added the caption "Jack." He says it is in honor of his youngest son, Jack Christopher Depp III, born on April 9, 2002.
Here is Depp looking hot in a T-shirt and fedora. [via]