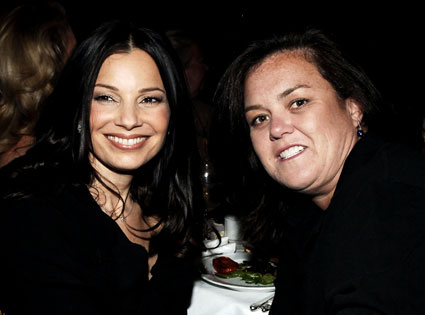 Rosie O'Donnell may be off the talk show circuit, but the outspoken and controversial comedian isn't going to stop appearing on television any time soon. Fran Drescher, the former star of long running sitcom "The Nanny," told In Touch that she's in development for a new sitcom with Rosie O'Donnell called "The New Thirty."
Will Fran Drescher and Rosie O'Donnell be the next comedy dream team? "We're in development for a new sitcom called 'The New Thirty,'" Fran told In Touch at a Friar's club lunch honoring her work with her Cancer Schmancer nonprofit organization. "It's basically about middle-aged women on the verge of a midlife crisi. We play old high school friends – who live in the same building in Manhattan – who are living very different lives…. I love Rosie and I've known her for many, many years," says Fran.
[From In Touch, print edition, June 2, 2008]
Fran has an very distinct voice that a lot of people find annoying in large doses, but she's also funny and you could see a sitcom with Rosie working. Rosie is a talented comedic actress and a sitcom might be a decent way for her to get back in the public's good graces – As long as she's reading someone else's lines and doesn't say anything offensive.
Rosie most recently starred in a revival of in "No, No Nanette" for four days, from May 8 to May 12, on Broadway, which received mixed reviews. Critics praised her comedic timing and tap dancing skills but some said the show was a little Wikipedia describes it as "a non-profit organization dedicated to ensuring that all women's cancers be diagnosed while in Stage 1, the most curable stage." Drescher was diagnosed with uterine cancer in 2000, but it was caught at stage 1 and she did not have to have chemotherapy.
Rosie described their upcoming sitcom as a "Fun, happy family comedy" in a video entry on her blog, but has provided no further information about it. You may have heard this before as the story has been out for a while, but it was definitely news to me.