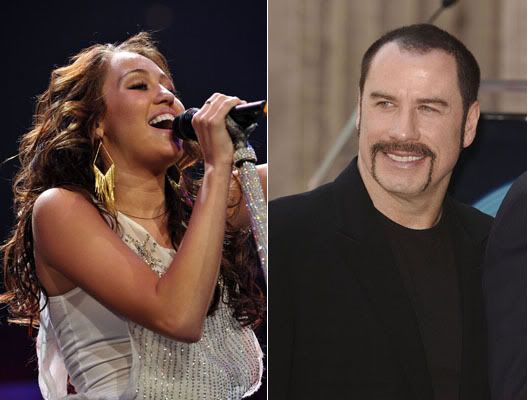 Miley Cyrus had even more photos released last week showing her lifting her top to show her stomach and pouting at the camera. They were more of the same facebook-style photos of Miley, which have had less attention from the public than that backless Vanity Fair picture. That one picture somehow seemed to capture the premature sexualization and objectification of young teens in the media, and sparked a huge debate. Meanwhile Miley has scores of private photos that have been leaked which are much racier but not as well publicized.
Now Miley has struck up a friendship with John Travolta after they worked on the animated Disney film Bolt together. Travolta's wife Kelly Preston told a reporter that her husband will possibly sing a duet with Miley. Cue the inevitable question that comes up when a celebrity gets to know John Travolta or Tom Cruise: Are they being groomed for the cult of Scientology? There is plenty of pressure on these celebrities to bring more famous people into the fold, so it's a legitimate concern:
Miley Cyrus can still command a stadium-size crowd and raked in $18.2 million in 2007 along playing Disney's Hannah Montana. So it's not surprising that they 15-year-old has become a sought-after commodity for Scientology, and her pal John Travolta is the most likely person to do the recruiting!
[From Star Magazine, print edition, June 2, 2008]
Miley is young and impressionable, and you could see her falling for something like this, but her family are devout Christians. Miley even made a YouTube video talking about how she loved Jesus. Some insiders claim that Scientologists tell new recruits that you can be a member of their cult and still follow Christianity, Judaism, or any religion you prefer. This is contradicted by the teachings of founder L. Ron Hubbard and to the basic tenets of Scientology, which some Christians claim are anti-Christian and anti-Jesus.
You just hope Miley keeps Travolta and his family at arm's length. His wife is trying to hype up their relationship with the young superstar, though, so it's not that far of a stretch to think that they're also trying to convert her and her family to the cult that has such a stronghold on them. Travolta converted his old "Grease" co-star Jeff Conaway to Scientology under the guise of helping him beat his drug addiction. They surely have a way of helping Miley with her singing, or maybe they have training to assist with her public image, since Cruise and Travolta have had so much success in that department since joining the cult.
Miley Cyrus is shown performing on 5/17/08 in East Rutherford, NJ, thanks to WENN. John Travolta is shown on 4/25/08 at a ceremony presenting Michael Eisner with a star on the Hollywood Walk Of Fame.