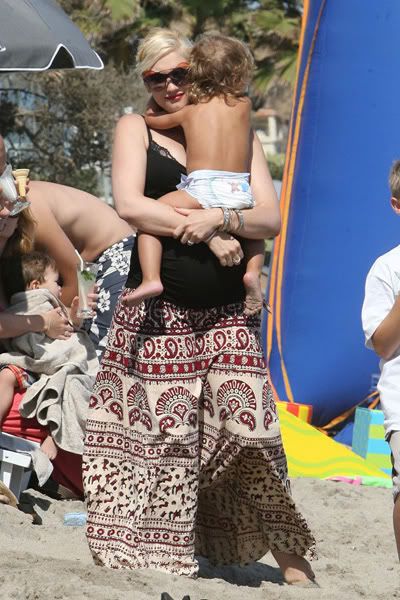 Gwen Stefani, Gavin Rossdale, and Kate Beckinsale were spotted on the beach in Malibu for Memorial Day yesterday. They played on the sand with their children and looked like they were enjoying the day. On the East Coast Tim Robbins played hockey in Greenwich Village, NY. He is likely out with one or both of his sons with longterm partner Susan Sarandon, Jack, 19, and Miles, 16.
Pregnant Gwen Stefani, 38, her husband of six years Gavin Rossdale 40, and son Kingston, who turned two yesterday are shown below on the beach in Malibu. Just Jared reports that Kingston had a cowboy-themed birthday party on Sunday that included ponies and celebrity guests like Victoria Beckham and her son Cruz, and Joel Madden and his daughter Harlow.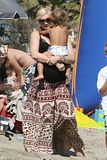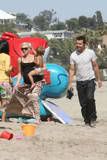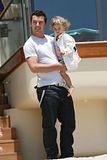 Kate Beckinsale, 34, and daughter Lily, 8 play on the beach in Malibu. Beckinsale manages to run on the sand in big wedge heels.
Tim Robbins, 49, plays hockey in NY.