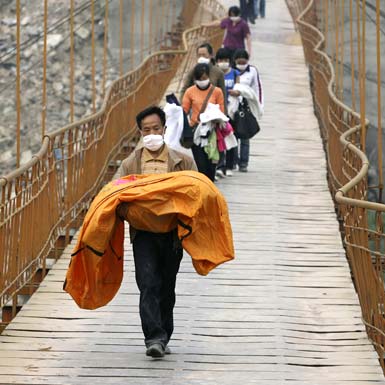 Note: Our goal has been met so there is no need to comment. Thanks so much for your support.
---
We will give $10 per comment on this post, up to $1000, to Chinese Earthquake Relief through
GlobalGiving.com
.
This is in response to the massive outcry against Sharon Stone's outrageous comment that the devastating earthquake in China, in which 67,000 people are confirmed dead and thousands more missing, was somehow karma against their government. Other commenters, who are very much in the minority, have expressed similar ignorant sentiments that are in no way a reflection of the feelings of the American people or of this website.
Rather than give any more credence to that nonsense, we want to help out any way we can. Please help us donate to Chinese disaster relief by commenting on this post.
You can also make your own donation at GlobalGiving.com.
Update: We are donating to the "Half the Sky Children's Relief Fund" through GlobalGiving.com. The Half The Sky Children's Relief Fund website has photos and a blog chronicling of their efforts. They recently visited a primary school that collapsed in which 241 out of 500 children perished.
Update 2: Goal Met! Thanks everyone for commenting! We have donated $1,000, which again will go to Half The Sky Children's Relief Fund through Global Giving. You can thank Sharon Stone for being such a tool and everyone who defended her or somehow tried to justify her statement.