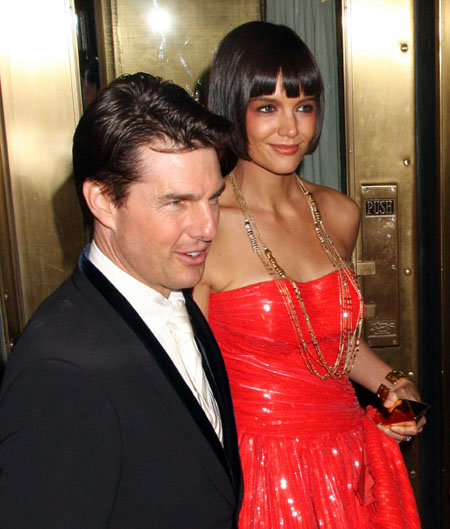 After all the speculation and stories that Tom Cruise was setting up house in NY and wasn't allowing his wide-eyed bride Katie Holmes any time to herself, Katie flew to NY alone ahead of her Broadway debut. It's unknown if she's still alone doing preparation for her play, All My Sons, but she probably had at least a day or two without her husband and daughter Suri, 2.
Katie Holmes is asserting her independence: She flew off by herself to New York to prepare for a play, say sources…

On May 19, said the pal, she left 45-year-old Tom behind and flew by private plane from California to the East Coast…

Tom had no problem with Katie, 29, taking to the stage – but he made it clear he'd be right by her side in New York.

"Katie told Tom she was going alone right now because she needed to shop, check on plans for a family home and meet with producers," said the source.

"But Tom said he'd pack up daughter Suri and they'd go as a family."

That's when Katie told Tom he could join her later, says the source, but for now she was heading out alone!
[From The National Enquirer, print edition, June 2, 2008]
It's hard to tell from that story if Katie brought Suri with her, because she's not mentioned and they only say that she "left Tom behind." Either way, it's a means for Katie to strike out on her own without Tom and try to resurrect (or create, depending on your perspective) her career with hard work.
The show is due to premiere in September, with an official opening in October. Katie won't be in NY for long. According to the print edition of In Touch, Tom and Katie are planning a huge housewarming party for their $35 million recently renovated and decorated mansion in Beverly Hills on May 31.
Photos are from the Costume Institute Gala on 5/5/08, thanks to WENN. We haven't seen any photos of them in a while, so maybe it's true that they're apart for a short time.