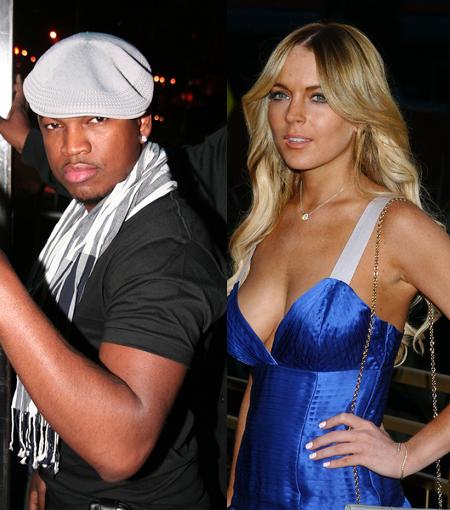 I think singer/songwriter Ne-Yo has been drinking antifreeze instead of letting it leak out of the bottom of his car. Because that's the only possible – rational – explanation I can come up with for why in the world he would say that Lindsay Lohan's upcoming album sounds like anything other than shit. Well antifreeze ingestion or financial gain. Ne-Yo, who has written hit songs for Usher, Chris Brown, Whitney Houston, and Britney Spears (and about two dozen more successful pop singers) somehow got talked into writing a few tunes for Lindsay Lohan. And apparently the hit maker thinks it came out well.
Ne-Yo admits he had his doubts about Lindsay Lohan's vocal talents when he was asked to write a song for her upcoming third album, due later this year. "I gotta admit, we were like … 'Lindsay Lohan?'" Ne-Yo tells Billboard magazine. "I mean, I've written for Beyonce Knowles, Mary J. Blige, Rihanna, Celine Dion and … Lindsay Lohan?"

But after hearing her sing on the track, called "Bossy," Ne-Yo says he and producer Stargate were so impressed that he called Lohan to say how sorry he was for not believing in her. "She did a ridiculously fabulous job," Ne-Yo tells the magazine. "I was so shocked I had to call her and apologize for what I was thinking because she did so good. I think the world is gonna be surprised."

Earlier this month Ne-Yo told PEOPLE that he and Stargate approached the Lohan project "as a challenge. 'Can we make a song for Lindsay Lohan that people were gonna take seriously?' I think we did it," he said.
[From People]
Mark it down: Today Ne-Yo's credibility (and career) just jumped the shark. LiLo's first album actually wasn't the worst thing ever. It was semi-decent pop, if you're into that kind of music. It wasn't some Paris Hilton/Nicole Richie crap where it was cringe-worthy awful. But from the leaked version of Lindsay's upcoming single "Bossy," there's nothing "ridiculously fabulous" about it. If I were a well-respected songwriter, I wouldn't want my name attached to anything having to do with Lindsay Lohan, unless it's the phrase "totally shot her down."