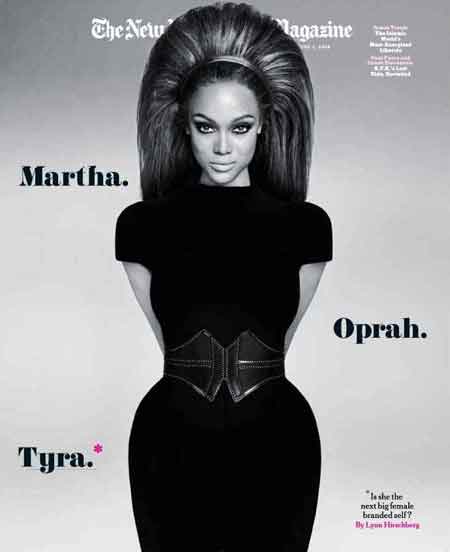 I once read that most famous people – be they Hollywood celebrities, politicians, or other well-known public figures – become famous because they have a combination of drive and some type of delusional personality disorder (there's a couple to chose from). Put those two things together and you have the winning recipe for a lifetime of fame and money.
A perfect example is Tyra Banks. Tyra seems to suffer from some form of severe narcissism combined with delusions of Oprah. She's on the cover of the upcoming issue of the New York Times Magazine, and gives a great quote that perfectly illustrates just how highly she thinks of herself.
Talk about a major coup for Tyra!

Not only is this cover stunning, it officially puts Tyra in another league.

According to the New York Times, the article "goes inside the world of Tyra Banks – ex-cover girl, ex-Victoria's Secret model and the reigning star of two popular TV shows, 'America's Next Top Model' and 'The Tyra Banks Show' – learn how the 34-year old entrepreneur turned herself into a brand."

"I think I was put on this earth to instill self-esteem in young girls," says Tyra.
[From Cover Awards via Gossip Rocks]
That's a pretty interesting thing to say, considering Celebitchy wrote a story about how horribly Tyra treated an 11-year-old girl who was a guest on her show. Tyra embarrassed Linda and her mother Claudia on national television, refused to meet with them before or after the show, and wouldn't pose for a picture or sign an autograph. Tyra makes a good deal of money from every show she hosts, and is profiting from humiliating this poor little girl. Linda has to go to school and likely be teased by classmates due to the experience. Tyra just gets to take a pile of cash home in exchange for exploiting Linda's embarrassment.
What a fabulous way to instill self-esteem in young girls. Tyra no one can stand you – your abrasive personality is cringe-worthy. But there's a fine line between your own high self-esteem and blatant narcissism, and you crossed it a long time ago. Don't act like you're doing anything good for anyone but yourself – let alone young girls.