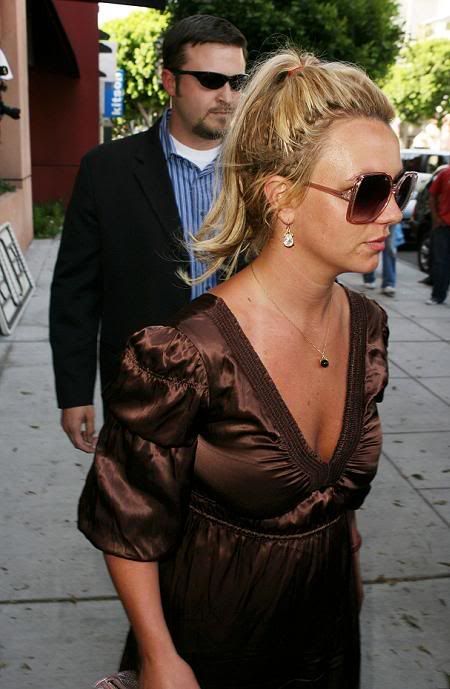 I have a theory that if Ashlee Simpson can do it, anyone can. If Ashlee can scale a mountain, anyone can. If she can marry Pete Wentz, anyone can. Mind you, that doesn't mean anyone should. And if Ashlee can take on Broadway, anyone can. And with that in mind, Britney Spears is reportedly being considered for the role of Sandy in the West End's production of Grease.
Britney Spears has been tipped for a role on Broadway – playing Sandy in the stage version of Grease.
The singer proved her acting credentials with a highly successful stint in U.S. sitcom How I Met Your Mother and was recently linked with a move to the London stage.
Spears was reportedly in talks to star in a West End production of Tennessee Williams' play A Streetcar Named Desire – playing the lead role of Blanche DuBois.
And now the Toxic hitmaker is once again rumoured to be considering a turn on stage – this time in hit musical Grease.
A source tells British newspaper Metro, "The producers were bouncing around the idea of casting Britney in the role of Sandy.
"They're recasting the roles in July and they thought that Britney looked like a Sandy. She would be terrific."
[From PR-Inside]
Britney might actually do better on the stage than she did on the small screen. I thought her acting was pretty uncomfortable and her delivery pretty stilted when she guest starred on How I Met Your Mother. But Britney is used to performing live on stage, and with some strong coaching she might be a pretty good fit for Grease.
This isn't the first time Brit's been rumored to be considering the stage. Last week she had dinner with George Maloof, Jr. the owner of the Palms hotel and casino in Las Vegas. The National Enquirer thinks she's planning on making her comeback with a Vegas stage show.
Apparently Brit's not sold yet – the couple good reviews she got for How I Met Your Mother have led her to consider her own television show. PLEASE DON'T DO IT!!
Coming this fall … Britney Spears, the sitcom?

The troubled pop star is reportedly interested in capitalizing on her "How I Met Your Mother" guest-starring success with a TV show of her own.

Spears had a meeting Wednesday with a big time producer about possible TV projects, TMZ.com reports. Brit would star in and possibly produce a show.

Sources told the site that the singer and her posse had a "serious" meeting with Roy Bank, President of Merv Griffin Entertainment, to discuss a move to the small screen. Among other ideas, the concept of a music show was thrown around.
[From the New York Daily News]
I think of the two options, the stage would be a much better fit for Britney. She'll get to do the same performance over and over again, which seems to be a good idea for her. Practice makes perfect and all that. And if she doesn't get it quite right every now and then, the entire country isn't watching her, and it probably won't end up on YouTube.
I'm still rather shocked that she got decent reviews for her television acting. I assumed people were just trying to encourage her to keep moving forward and such. Apparently it opened some doors for her. Which is great. But I still think a return to live performing would be her best bet.
Here's Britney after shopping at Lisa Kline boutique in Los Angeles on May 21st. Images thanks to WENN.