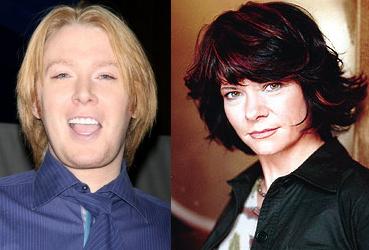 No your eyes are not messed up: you read that headline correctly. Of all the upsetting, horrendous things I've ever had to report, this may very well be the worst. Clay Aiken is going to be a father, according to Us Weekly and TMZ.
Idol Clay Aiken's producer is pregnant with his child, TMZ.com reports.

Jaymes Foster (who is reportedly in her late 40s) was artificial inseminated with the 29-year-old singer's sperm, according to the report.

Aiken lives with Foster – described as his "best friend" – when he's in L.A. and plans to be involved with parenting their child, TMZ reports.

The crooner has consistently avoided questions about his sexuality.

"People don't want to have that type of stuff pushed, people who are living in Omaha or in Charlotte or wherever," Aiken told Access Hollywood last month.

"They don't want stuff like that pushed in their face," he added. "I don't think that's necessary and that's also not what I'm here for. I mean, I went on Idol to be a singer, I went on Idol to be an entertainer and that's what my priority is."
[From Us Weekly]
This means that someone intentionally chose to have Clay Aiken's DNA growing inside them. It wasn't some drunken mistake (I realize that's even less likely to happen with Clay Aiken, but you get the point). It was this conscious, thought-out plan. It means that Jaymes Foster looked around at the men in her life, and the VERY BEST CANDIDATE was Clay Aiken. Which makes me really judge the other men she knows.
According to TMZ, Foster is 50-years-old, the sister of record mogul David Foster, and has produced several of Clay's albums. The way they phrased it is that "Clay is a lot more than sperm — we're told he will have an active role in raising the child." Considering the way Clay supposedly bosses everyone around and lectures people on manners, he's going to be one uptight dad.
Clay is scheduled to perform on the Tonight Show this evening. Something tells me this won't come up, but you never know.
Here's Clay arriving at Planet Hollywood in Times Square to promote his role in Monty Python's 'Spamalot' on April 8th. I don't think that's the actual cup he used, but no guarantees. Images thanks to WENN.