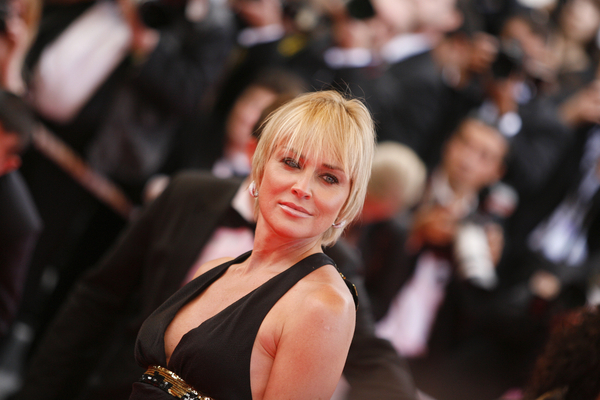 The Chinese now have one small bit of light in their otherwise dark world right now: they will no longer have to watch Sharon Stone films. Okay technically they will no longer be able to watch Sharon Stone films – but really, if you've ever tried to sit through one of her fine performances, you realize it's not something any rational person would choose to do. One of China's largest movie theater chains has banned her films, refusing to show them after her insensitive comments implying the devastating Chinese earthquakes were the result of bad karma.
The 50-year-old actress suggested last week that the devastating May 12 earthquake in China could have been the result of bad karma over the government's treatment of Tibet. That prompted the founder of one of China's biggest cinema chains to say his company would not show her films in his theaters, according to a story in The Hollywood Reporter.

Ng See-Yuen, founder of the UME Cineplex chain and the chairman of the Federation of Hong Kong Filmmakers, called Stone's comments "inappropriate". UME has branches in Beijing, Shanghai, Chongqing, Hangzhou and Guangzhou, China's biggest urban movie markets.

During the brief interview, which has also surfaced on YouTube, Stone also said she cried when she received a letter from the Tibetan Foundation asking her to help quake victims. "They wanted to go and be helpful, and that made me cry," she said. "It was a big lesson to me that sometimes you have to learn to put your head down and be of service even to people who aren't nice to you."

"To Sharon Stone's comment, it's unlikely that we will respond," said a woman who answered the phone at the Foreign Ministry in Beijing. She refused to give her name or position. After-hours phone calls and email to a representative for Stone were not immediately returned Tuesday night.
[From the Daily Mail]
I'm not quite sure how to interpret the second part of Stone's comments, where she mentions getting a letter from the Tibetan Foundation. That part wasn't quoted in any of the articles that came out in the last few days. You could argue that she's praising the Tibetans and nothing more, or you could argue that it slightly mitigates the inflammatory nature of the first part of her comments (while still not making them appropriate). But it still was an incredibly unwise and thoughtless thing to say.
The Internet Movie Database shows that Stone has five movies coming out within the next two years. Generally speaking, movies recoup their costs in the U.S. and make their profits overseas. The Chinese market is very important – in fact Stone was a guest at the Shanghai International Film Festival last year. It makes you think she must not have that big a problem with the Chinese treatment of Tibet, since she's willing to chill with them when it furthers her career. Regardless, if other theaters follow the lead of UME Cineplex as expected, it could dramatically affect her future film's profits.
Thank you to all the thoughtful readers who commented on Celebitchy's Chinese Earthquake relief post, and helped us reach our donation goal.
Here's Sharon Stone at the Che premiere at Cannes on May 21st. Images thanks to PR Photos.