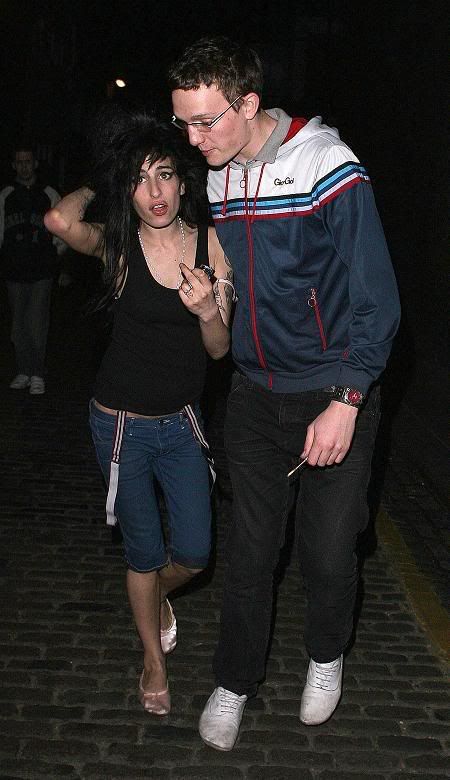 It turns out that when you bring a good influence into Amy Winehouse's life, the odds are much greater that Winehouse will mess up the good influence rather than the good influence straightening out Winehouse. Amy's rumored boyfriend Alex Haines was brought in by her record company to keep Amy on the straight and narrow. Romance rumors started swirling almost immediately, with Winehouse's family – seemingly joyfully – declaring them a couple. But instead of helping Winehouse clean up, it seems that she instead helped Alex get messed up. He was videotaped smoking crack and then fired by Winehouse's record label.
Another member of Amy Winehouse's posse has been busted for drug abuse. Alex Haines, an employee of Winehouse's label who was instructed to keep an eye on the troubled singer, was fired after he was allegedly caught smoking crack on tape, Britain's The Mirror reports.

Haines was originally brought into the fold to keep Winehouse, who has a history of problems with drugs and alcohol, on the straight and narrow. The singer's mom raved about Haines last month, telling the U.K.'s Daily Mail that he's "a lovely boy" who was a good influence on her daughter. Whoops.

Winehouse and Haines have been plagued by reports that they're a couple, which didn't sit too well with Winehouse's incarcerated husband, Blake Fielder-Civil. "Alex was a good friend to Amy but he caused massive rows for her with Blake," a pal said. "He couldn't stand hearing they were sleeping together."

A spokesman Winehouse's label has confirmed that Haines is no longer their employee.
[From the New York Daily News]
Poor guy. I mean I'm sure Winehouse didn't hold a gun to his head and force him to smoke crack, but you can't help but feel sorry for a guy that was widely reported to be a relative pillar of straight-laced integrity prior to meeting Amy Winehouse. Of their rumored romance, Amy's father Mitch conceded that it was likely Amy who seduced Alex, and not the other way around. I'm guessing if that's the case, she's probably the one who turned him onto crack too. It sucks that he got fired, but in the long run being far away from Amy Winehouse can only be good for Alex.
Here's Alex s at Amy's house on April 29th. Header image of Alex with Amy on April 25th. Images thanks to WENN.