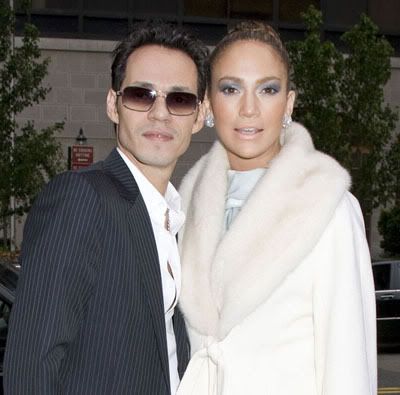 Marc Anthony called into the Billy Bush radio show yesterday in advance of his new tour. He revealed that he and his wife, Jennifer Lopez, don't have a nanny for their three month-old twins, Max and Emme. He also said that he's getting the short end of the stick and that his job is caring for the twins overnight from 10 pm to 8 am. As for reports that they have multiple butlers and gold chandeliers hanging in the twins' nursery, Anthony says all of that is false and that they're very hands on:
"[Max and Emme] are just big and gorgeous," he told Billy.

Marc revealed that he and wife Jennifer Lopez handle baby duties all by themselves.

"She expects me to help and she makes no bones about it," Marc said. "I get the late shift. I get literally from 10 PM because we don't have a nanny. It's just me and Jennifer figuring it out. From 10 PM to 8 [AM], that's my shift"

That's right – Marc and Jennifer have no nanny for their twins.

"It's just us man," Marc said. "We're figuring it out and having a great time."

When asked if Jennifer has been working out hard to get her figure back, Marc confirmed his wife is in fitness mode, but more importantly, she is all about their children.

"Yeah, yes she is, but she's more in mommy mode," Marc said. "She has three movies lined up and she's eager to go back to work, but the babies have been a blessing all the way around and she's just amazing. She's such an amazing mom and I'm so proud of her. She's such a gem to watch."
[From AccessHollywood.com – site may contain automatic sound]
He also joked "I've heard that they have 24 karat gold chandeliers and 8 nannies and 10 butlers and stuff like that. No, It's just us."
Good for them! There was a story that their nanny "abruptly left" for whatever reason around mid April, and it sounds like they're not in a hurry to hire a replacement or just haven't found one yet. They must have a babysitter or at least a family member to watch the twins though, as they've made several appearances together without the newborns.
They have also supposedly said that "the next year will be all about family," but they're not putting their respective careers on hold. Lopez has three movies coming up, according to Anthony, and she is also working on a fragrance and a reality show with TLC. Anthony will do a music tour soon and it's unknown whether he'll bring his wife and twins along.
Marc Anthony and Jennifer Lopez are shown on 5/12/08 at a Christian Dior fashion show, thanks to WENN.