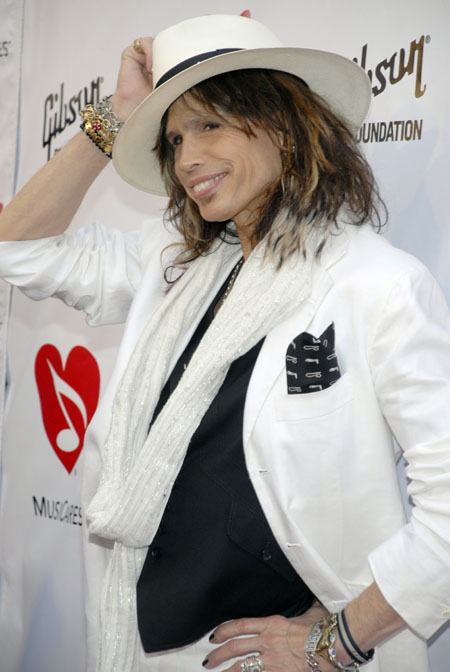 It seems like rehab clinics are the new spas. Kirsten Dunst said she went to rehab for depression treatment while Steven Tyler is claiming that he went to rehab this month in order to have peace and quiet while he recovered from foot surgery:
"The doctors told me the pain in my feet could be corrected but it would require a few surgeries over time," Tyler says in a statement released Thursday. "The 'foot repair' pain was intense, greater than I'd anticipated. The months of rehabilitative care and the painful strain of physical therapy were traumatic. I really needed a safe environment to recuperate where I could shut off my phone and get back on my feet. Make no mistake, Aerosmith has no plans to stop rocking. There's a new album to record, then another tour."

According to the statement, Tyler was treated at the center after a series of surgeries and post-operative physical therapy "to correct long-time foot injuries resulting from his trademark athletic performance onstage."
[From People]
According to the website for the Las Encinas hospital where Tyler was treated, they treat addictions and chemical dependency, but it's of course possible that he decided to go to rehab when he could have just as easily checked into a resort or spa.
It wasn't his first stint in rehab this year, though. The National Enquirer reports that he sought outpatient treatment in another facility starting in February for an addiction to prescription painkillers, which he was taking to cope with the pain from hepatitis C.
These celebrities should just keep quiet about rehab and go about their business afterwards. They don't have to give bogus excuses. Maybe they consider it insurance in case they fall off the wagon. Getting drunk at a club is no longer a bigdeal after rehab, since they already gave the excuse that they were there for the great food and seclusion.
In related news, Kirsten Dunst was said to have been "wobbly" after being out at a bar in NY last weekend.
Steven Tyler is shown at a MusiCares benefit on 5/9/08, thanks to WENN.