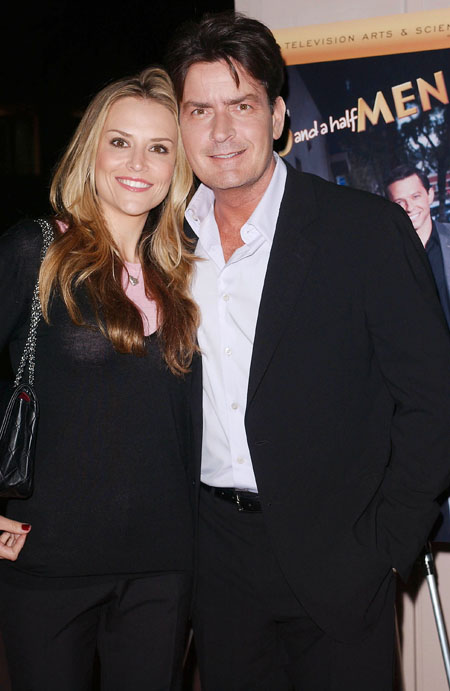 Three and a Half Men star Charlie Sheen will marry his third wife, Brooke Mueller, in a ceremony at a secret location in LA tonight. The couple is keeping the location of their wedding ceremony and reception quiet in order to ensure that Charlie's ex wife, Denise Richards, doesn't show up or try to film it for her new E! reality show. Charlie and Denise have had a protracted custody battle along with a war of the words in the press.
The NY Daily News reports that Charlie and Brooke have been trying to have a child, and that it's possible she's already pregnant:
As her ex Charlie Sheen and Brooke Mueller prepare to walk down the aisle Friday night, friends of the bride-to-be tell us she may already be pregnant.

"They've been busy working on having a baby," confides a pal. "They have been for a couple of months. It'd be great if they had a son, because Charlie already has three daughters."

The "Two and a Half Men" star, 42, has a daughter, Cassandra, 23, by Paula Profit, and had Sam, 4, and Lola Rose, 3, with Richards.

Asked if they were trying to start a family, Sheen's rep Stan Rosenfield told us: "That's often what people do when they get married."

The 60 or so people invited to the nuptials know only to wear evening attire and wait for a car to whisk them to a secret location in L.A.

"They had to tell Denise when it was, because they wanted the girls to come, but she doesn't know where it'll be," says the source. "Who knows? She may even crash the event with a camera crew."
[From The NY Daily News]
As for the he-said she-said with the "sperm donor" e-mail, in which Richards supposedly asked Sheen for some of the stuff to conceive another child after their split, the News claims to have a source who says that a computer expert verified that the e-mails were not doctored and that they came from Richard's computer.
Good luck Charlie Sheen and new wife. And please don't let us know the details if you ever get a divorce.