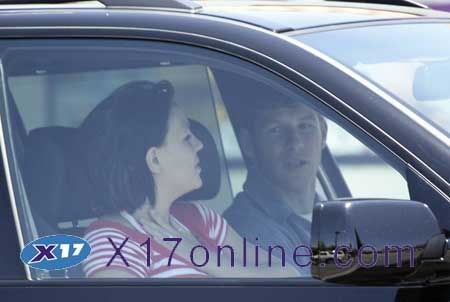 So my friend didn't figure out how to make posts properly, and neither did the guy who e-mailed all the bloggers saying he was available for help while we were on vacation.
Anyway I'm back from the south of France, which is beautiful and all, but take my advice and don't use Mapquest to get to your idyllic destination with your surly hosts near Johnny Depp's house. Stick to the highways because those windy lines on the map are really perilous mountain passes that aren't meant for anything but arrogant French drivers in tiny Renaults.
Also back is gorgeous helpful Perry, manny to the stars. He was spotted driving Britney to get some fast food. Sean Preston was not in the car, so it must be true that Perry has given up manny duty in favor of his original job as super-hot personal security and arm candy.
We thought Perry was out of the picture when it was reported that Kevin disliked him and said he shouldn't care for Sean Preston. K-Fed was also said to be enraged that Sean Preston was calling Perry "Da Da" and generally bonding with the father he never had. The baby-Bjorn wearing Naval Academy graduate was said to be on per-diem security duty, which spelled curtains for him in our book, but look – he's driving Britney to McDonalds!
Britney said in her upcoming Harper's Bazaar interview that she can't wait to get back in shape after the birth of her second child in September. She says she's "going to get really intense with it" so she can prepare to perform again. In that case we hope she had a McDonald's salad and skipped the fries and soft drink.
Thanks for hanging in there during my brief vacation away from the Internet that followed my one month stay in America, aka shopping heaven.
I would also like to thank Ritu at Celebguru for letting us "borrow" her content during our vacation. I picked Celebguru to pilfer from as I enjoy Ritu's commentary and think she does a great job of covering the celebrity news and gossip.
Welcome back, Perry, and welcome back Celebitchy.
Pictures from x17online.