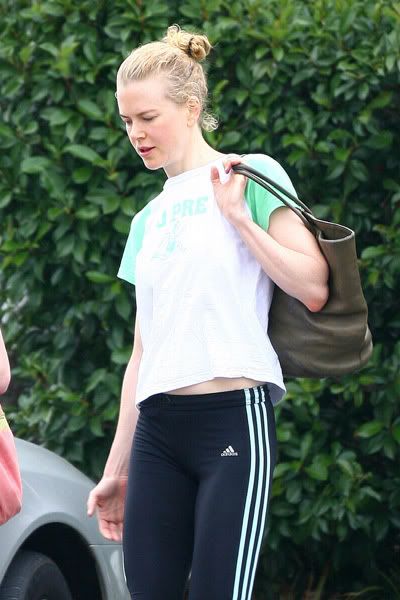 No wonder these poor celebrities work their asses off at the gym and plastic surgeon's office. A little bloat and the Internets and celebrity glossies declare they're pregnant. Poor Nicole lost her imaginary baby bump in a miscarriage of gossip this week. She was photographed outside her gym with a perfectly flat tummy poking out of her top.
Nicole Kidman joined her new husband, country singer Keith Urban, on the opening night of his North American tour in Ontario, Canada. Kidman did not join her husband on stage, but he made a reference to her, dedicating his song "Making Memories of Us," to "my lovely bride." He also told concert-goers that he was "happy to join the married crowd".
Security at the concert was beefed up after a local radio station said they would pay $75,000 for a picture of the famous newlyweds kissing.
Here is Nicole Kidman with her skinny stomach. [via]