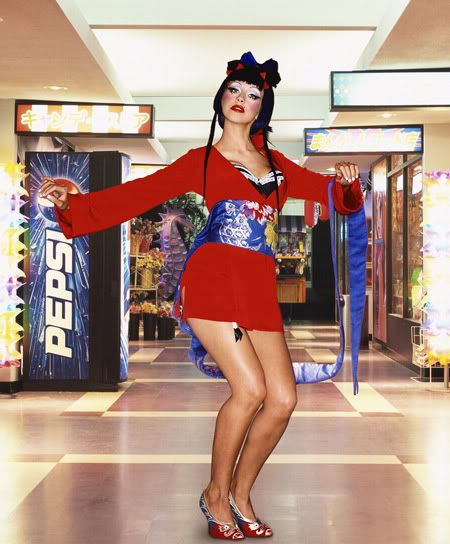 Pepsico tries to show that carbonated sugar water is palatable to all gullible cultures by posing Christina Aguilera in various outfits and hairstyles that would look just as good on International collector Barbies.
Aguilera used to shill for Pepsi's biggest competitor, Coke, but moved over when they gave her the chance to spend more time in hair and makeup. Her endorsement deal is said to be around $3.7 million:
Pop star Christina Aguilera is promoting Pepsi on a global scale in a new TV ad campaign that takes her from New York to Rio, Prague, Japan and the Sahara.
The chart-topper samples the classic cola in a series of exotic locales where she dances and gyrates to a variety of cultural rhythms before ending up back in New York, hellomagazine.com reported.
"I had a great time," Aguilera said after the filming.
A more accurate spokesperson for Pepsi would be Rosie O'Donnell. We loved the normal Snapple lady from Long Island. Why can't Pepsi go the everyperson route and hire an average person who actually consumes their drink? Jared helped Subway boost sales, and a non-celebrity everyman/woman would do the same for Pepsi. Instead some brilliant marketer decided to use Christina Aguilera and make her look even more plastic.
Pictures [via]