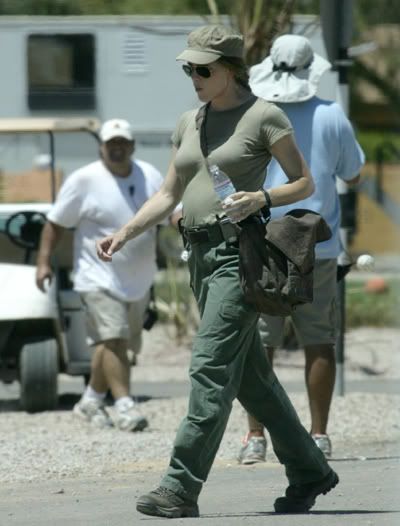 X17 online points out that Jennifer Garner's got a bump on the set of her latest movie, thriller "The Kingdom." It just looks like an unflattering shirt tucked in where it shouldn't be, but you can never be sure. We were all over that "Nicole Kidman's pregnant – now she isn't" story, and we'll continue to report the bump watch celebrities. We're sure to be right once in a while.
Garner has a seven month-old daughter, Violet, with husband Ben Affleck. She may just be having trouble losing the baby weight, although she still looks great. It was reported a few months ago that she was planning on getting naked in her new film, "Sabbatical." I wonder if that's true and when it will start filming.
The pictures of Jen on set were supposedly taken on June 30th, and from Jen-Fans.com and are medium resolution. The candids of Jen in a white top are from X17online.com and are low resolution.