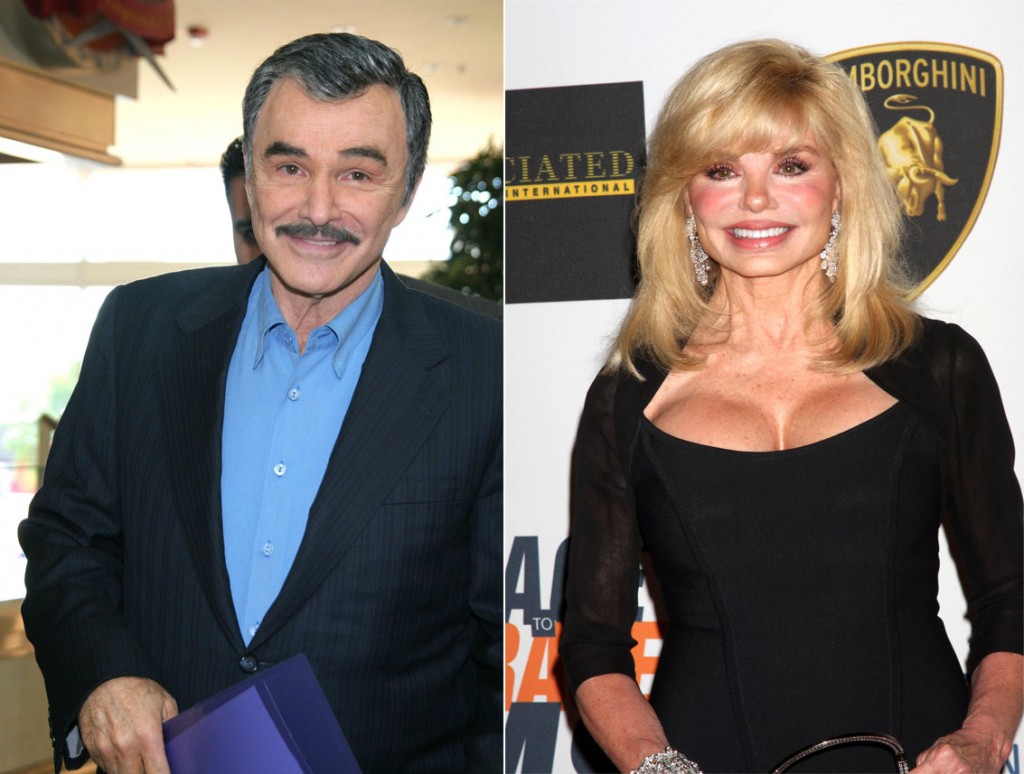 Burt Reynolds and Loni Anderson were married for about five years, from 1988-1993. They have an adopted child together, son Quinton, now 22, and although they were estranged for some time they've recently mended fences. The National Enquirer is reporting that these two are planning to star in a sitcom together, as a bickering elderly couple in a retirement home. The show will be written by "All in The Family" creator Norman Lear, and they're still pitching it. Burt and Loni haven't talked in years but Loni is said to have softened when Lear contacted her about the show. Burt, 74, has been facing serious health problems and underwent open heart surgery earlier this year. He's reportedly single now but Loni, 65, remarried in 2008 and is on her fourth husband, musician Bob Flick.
A news U.S. sitcom has brought former couple BURT REYNOLDS and LONI ANDERSON back together, 15 years after they divorced.

The pair is set to play warring pensioners living in a retirement home in the untitled show, which being written by All in the Family creator Normal Lear, reports the National Enquirer.

Sources tell the tabloid that 74-year-old Reynolds hopes the show will kickstart his career, following his recent lifesaving heart surgery, and Anderson agreed to cast aside the ex-couple's differences after their son Quinton, 22, intervened to broker the deal.

An insider tells the Enquirer, "Burt jumped at the chance to make a TV comeback, but he knew that without Loni, the show wouldn't work.

"When Burt and Loni talked, it was awkward at first, but she was touched when she realised how much it could mean to Burt… She realised the show would put him back on the Hollywood map."

Both stars have sitcom experience, Reynolds starred as an American football coach in Evening Shade and Anderson was a hit in WKRP in Cincinnati.

Lear reportedly plans to pitch the new show for the 2011 TV season.
[From The National Enquirer via Contact Music]
I remember when Loni and Burt were such a hot couple back in the day. While I was 'researching' for this story I found this old People Magazine article about their split. It mentioned the rumors that they each had found other lovers, but ultimately blamed their split on varying work schedules that forced them to be apart. There was a very touching story in that article about how Loni nursed Burt back to health after a terrible accident left him nearly bedbound for over two years. I wanted to share it:
It was the loyal Anderson who stayed with Reynolds through what became a transforming experience in his life. In 1984, filming City Heat with Clint Eastwood, he was accidentally clobbered with a wrought-iron chair during a fight scene. The blow fractured his temporo-mandibular joint, damaged his inner ear and resulted – before a surgeon reconstructed his jaw – in a two year bout with almost constant pain and nausea. His weight dropped from 200 to a near-skeletal 138, and the press was rife with erroneous reports that he had AIDS. To dull the pain he took morphine and at one point was, by his own account, downing an astonishing 50 tablets a day of the controversial antidepressant Halcion. For the two years that he was virtually bedridden in his darkened room – and the difficult year of medically supervised detox that followed – "this wonderful lady never left my side," he later said of Loni. "How can you not be in love with somebody like that?"
[From People Magazine, print edition available online, June 28, 1993]
Can you imagine? I would love to see these two in a sitcom together and I bet it won't be too hard for them to argue on cue. It's been a while but they must have a lot of experiences to draw on.
Loni Anderson is shown on 5/7/10. Burt Reynolds is shown on 2/14/07. Credit: WENN.com.