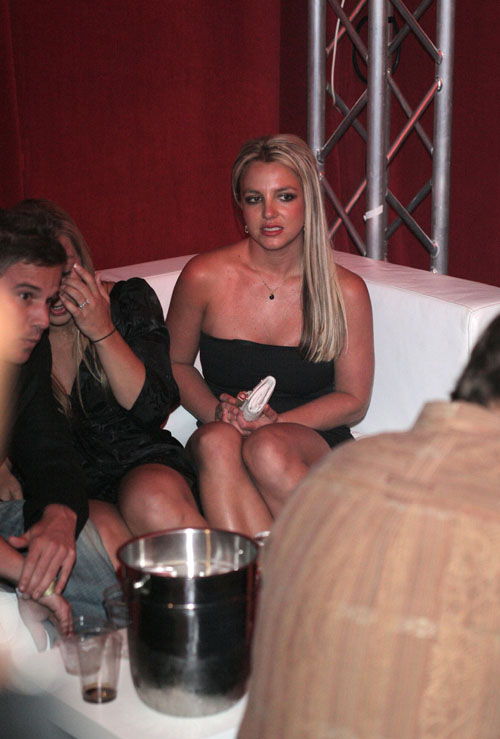 Britney's father's conservatorship lasts until July 31 of this year. In a hearing yesterday, in which she was not present, her court-appointed attorney said that it's best if she doesn't get involved in the legal decisions regarding her affairs and implied that it could be detrimental to her mental health. The judge agreed and said that "her medical condition remains the same," whatever that means:
Neither Brit nor her father Jamie Spears were present at Thursday's hearing, although commissioner Goetz approved a request for Jamie to receive more money per week in order to continue caring for Britney.

The singer's court-appointed attorney Sam Ingham told the court today he believed it was better that Britney not participate in the legal affairs of her person and estate, adding it "in fact could be harmful to her to participate."

After reviewing her medical status, the commissioner agreed, saying, "Her medical condition remains the same. Though there have been changes in her medication, I think in terms of her diagnosis, it's not complete."

The commissioner will review Brit's condition again on June 17. In the meantime, a trial is set for July 31 to determine whether to dissolve or extend the conservatorship.
[From OK! Magazine]
Is it in Britney's best interest that these details be given to the press? I don't understand all the legal implications in her case, and maybe a special ruling needs to be made to seal each hearing or something, but it seems like this is information that the public should not be privy to. It's also just some lawyer and judge's opinion and it's not like they're doctors. I just find it annoying that this information is out there and that it might somehow interfere with the progress she seems to be making. It seems like this type of news being published is could be just as detrimental to her mental health as having her get involved in the legal progress.
What a bummer it must be to start feeling better and then to have some lawyer you didn't even hire say you're still having trouble. She does need her dad's guidance and control, but she could do without having the court's decisions broadcast.
Britney is shown on 5/23/08 at Christian Audigier's 50th birthday party, thanks to WENN.