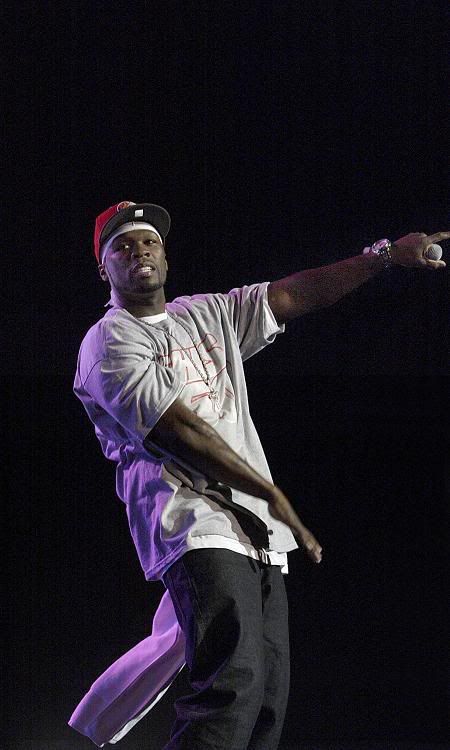 Rapper 50 Cent has been in a heated legal battle with his ex-girlfriend Shaniqua Tompkins for the better part of a year over a $2.4 million Long Island home. 50 Cent owns the home, but Tomkins and their son live there rent-free. 50 has been trying to evict them or make Tomkins pay market rent for the place, about $5,400 a month.
Tompkins claims 50 promised her she and their 10-year-old son Marquise could live in it. In the past she's also claimed that as the mother of his child, she's owed the expensive home. The pair have been battling it out in court, and it's gotten so heated that there have been multiple confrontations, including an "extremely dangerous incident" on Monday at the office of Tomkins' lawyer.
Last night, a "suspicious" fire broke out in the home around 5 a.m. while Tomkins, her two children (include the son with 50 Cent), and three other adults were sleeping.
A multimillion-dollar Long Island home at the center of a dispute between Grammy-nominated rapper 50 Cent and his former girlfriend was destroyed by a suspicious fire early Friday. The blaze occurred just days after a heated confrontation inside the woman's attorney's office over the home. 50 Cent does not live in the home and apparently wasn't there at the time.

Six people inside the Dix Hills home were taken to a hospital suffering smoke inhalation, including the former girlfriend and a boy fathered by the rapper. All six were treated and released. A firefighter also suffered a minor eye injury, officials said.

Investigators from the Suffolk County arson squad were called to the scene after Dix Hills Fire Chief Larry Feld deemed the blaze suspicious. The fire was reported about 5 a.m. and extinguished about 45 minutes later, Feld said.

A passing off-duty police officer helped rescue the six people off an elevated deck in the home's backyard, Feld said. He referred the case to the arson squad "because of the intensity of the fire." The rapper's ex-girlfriend, Shaniqua Tompkins, and two of her children, including 50 Cent's son, were among the injured. The other three adults in the home were not immediately identified.
[From the Huffington Post]
Several of Shaniqua Tompkins' requests sound outright ridiculous, especially the reasoning behind it. If you have a kid with someone, they obviously owe you child support. But they don't inherently owe you a $2.4 million home, which is the argument she's made on several occasions. She also claims that 50 Cent promised her half of all of his earnings. Forever. Via email. And she expects that'll stand up in court. Her lawsuit is on the docket for June 10th in New York State Supreme Court.
50 Cent's rep just released the following statement:
"Informed this morning while filming a new motion picture on location in Louisiana, Curtis Jackson expressed deep concern over this fire at his property. He is extremely thankful that everyone including his son, Marquise, escaped the burning house safely. He is confident that authorities will be conducting a thorough investigation of the incident and is eager to review their findings."
[From TMZ]
Obviously the fire seems pretty suspicious. But given the heated nature of what's gone on between 50 Cent and Shaniqua Tomkins, it's hard to guess who's responsible for what.
Header of 50 Cent and G Unit performing live in concert at Sydney Entertainment Centre in Australia on April 23rd. Image thanks to WENN. Here are pictures of 50 Cent's house in Dix Hills, from when it was on the market last year. According to Newsday, the house, built in 2002, has 6 bedrooms, 5 bathrooms, a 3-car heated garage with a dumbwaiter to the kitchen. It's located on an acre and also has a pool.