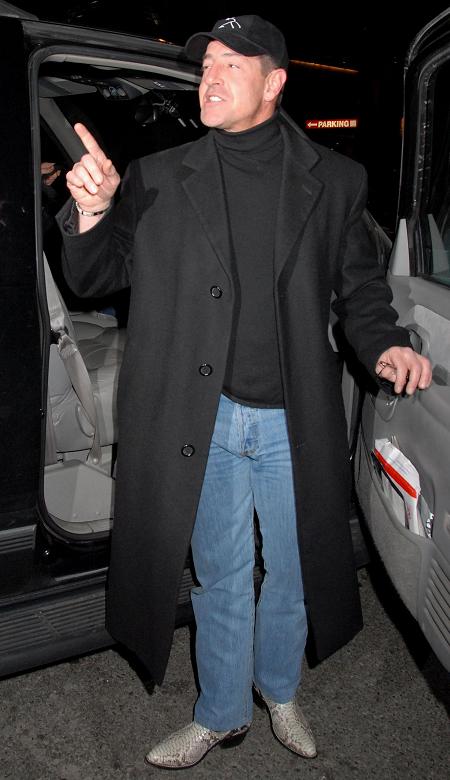 According to Page Six, Lindsay Lohan is doing her very best to avoid her crazed father Michael. In fact after he found out what hotel she was staying in while visiting Manhattan, he camped out in the lobby waiting for her to return. LiLo checked out early – after less than a day – in an attempt to avoid the crazed born-again wing nut.
It takes a lot to separate Lindsay Lohan from her constant companion, Samantha Ronson – but if anyone can do it, it's her obsessive father, Michael Lohan.

Wednesday night, Michael showed up at the Peninsula Hotel, where Ronson was deejaying a men.style.com party. "Michael found out where Lindsay was going to be and went to find her," a source said. "She was really freaked out by it because she has no interest in seeing her father."

Hotel spies say Lindsay checked in with Ronson on Tuesday, but by Wednesday afternoon, before the party started, she had cleared out, possibly after learning her father was on his way.

"Michael was staking out the lobby and waiting for Lindsay to make an appearance," said our source. "It was freaky. He was sitting on the steps and texting like mad, and looking very upset that she hadn't arrived."
[From Page Six]
Michael, of course, issued a rebuttal, using his new "blogging rights" on OK Magazine's website. Instead of just saying, "No, that wasn't what I was doing," or explaining why he was doing it, he goes off on some long-winded slam against ex Dina Lohan. Now I hate Dina as much as the next person. But it's pretty clear that Michael is obsessed with her since he can't stop talking about her, and making the same old complaints again and again.
"This morning's article was nothing more than Dina, who planted the story by using sources and so-called friends — all because I'm taking her to court and she wants me to look bad before everyone finds out what her and her family are all about.

"Dina is getting such bad press for her show [Living Lohan on E!] that she is trying to pass it off on me. She does this time and time again, and in each instance, when I talk to Lindsay, she says, 'Dad, I never said that or did that!'

"Dina is manipulative, deceptive and devious, just like her immoral family. If she isn't trying to manipulate our children, she has other people make statements for her just like she has done in this latest article.

"Her show should be called Living SULLIVAN [Dina's Maiden Name] and not Living LOHAN because a LOHAN would never do what her or her family does.
[From OK Magazine]
In case you were sitting around wondering, Michael Lohan is not smart enough to understand the difference between using "her" and "she." I know, shocking that a Lohan can't attain a basic level of intellect.
Michael is right though: how dare Dina sully the good Lohan family name? A name of such valiant honor. I remember this one time, a Lohan beat up his brother-in-law who was a Sullivan, and ended up going to prison for two-and-a-half years because he violated his probation (for a DUI). What prestige, the Lohan name!
Seriously, I don't think Lindsay Lohan is capable of healthy or intelligent decisions. But staying the hell away from her dad is definitely one of the smarter things she's done in awhile.
Here's Michael Lohan leaving the Lindsay Lohan Photo Exhibition inspired by her tattoos in Manhattan on March 6th. Because that's not creepy at all. Heads up: supposedly this is Michael's sex face. Images thanks to WENN.