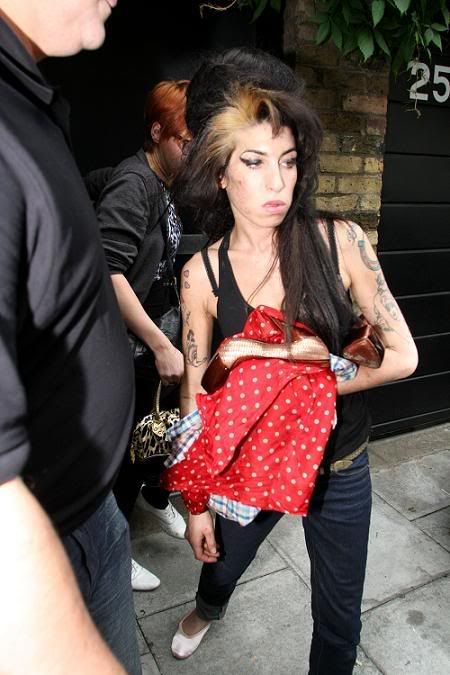 A lot of bad ideas don't seem like bad ideas until you're half way through them. Then you think back with that beloved 20/20 hindsight and wish you would have thought whatever it was through a little better. But there are some ideas that are so obviously terrible that you've got to wonder what kind of moron would go through with it. Case in point: booking Amy Winehouse to perform at the prestigious concert celebrating Nelson Mandela's 90th birthday.
Nelson Mandela just scored a coup of a birthday guest…that is, if she shows up. Amy Winehouse has officially been added to the lineup of artists set to perform at a special London concert marking the former South African president's 90th birthday.

In addition to the "Back to Black" singer, Leona Lewis, Queen, Razorlight, Annie Lennox and Shirley Bassey are set to perform at the three-hour June 27 event in Hyde Park, which Mandela himself is set to attend. Proceeds will go toward his 46664 charity, a global campaign to raise awareness of HIV and AIDS.

"We are delighted Amy will be appearing at Hyde Park," Tim Massey, the international director of the charity named after Mandela's prison number, said.

The gig—which, fitting with the theme of the night, will have an audience that's 46,664-strong—will mark Winehouse's first full set onstage since last November, right before she called off her tour.
[From E! News]
What a fabulous idea. Who better to promote AIDS awareness than a famous IV drug addict? Now in all fairness the likelihood that Winehouse will actually even show up is almost nil. And to further ensure that she makes a fool of herself and increases her reputation as being unreliable, Amy is also scheduled to perform at the Glastonbury Music Festival the next day.
Two high profile concerts in two days? When in the world will she have time to snort and shoot? I can guarandamntee you that at least one of those concerts isn't going to have Amy Winehouse singing. It might have Amy Winehouse passed out in a porta potty, but singing isn't going to happen.
Here's Amy Winehouse arriving at Pentonville Prison to visit her husband Blake ahead of her performance this weekend at the 'Rock in Rio' festival in Portugal. I honestly did not cherry pick the worst photos. This is the lot of them. Images thanks to WENN.