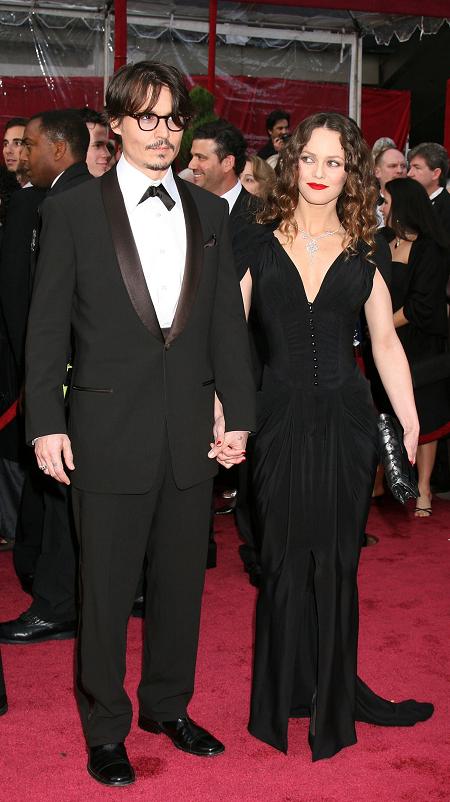 Tensions are running high in Johnny Depp's relationship with longtime girlfriend Vanessa Paradis. Depp is currently filming Public Enemies with French actress Marion Cotillard, and according to many onset snoops, the chemistry between the two is more than palpable. Paradis is said to be quite jealous – and has good reason to be.
But industry insiders say French singer and actress Vanessa, 35, doesn't like the way Johnny is warming up to 32-year-old Marion, who recently won an Oscar for her portrayal of French chanteuse Edith Piaf in "La Vie en Rose."

"Vanessa is jealous over Marion. The chemistry between her and Johnny is blatantly evident to everyone," revealed an insider. "Marion is very flirty with guys she likes – and she adores Johnny! She frequently gives him a hug and a peck on the cheek before they start filming – and I never see him push her away. Vanessa has always trusted Johnny, but she feels as if Marion is a crossing dangerous boundary by being so affectionate."
[From the National Enquirer, June 9, 2008 print ed]
Cotillard is quite the notorious man stealer. In 2003 she had an affair with French actor Guillaume Canet, her leading man in the film "Love Me if You Dare." Canet was married to actress Diane Kruger at the time. So Vanessa Paradis has reason to worry – probably not about Johnny, but Marion certainly doesn't have a great track record in that regard.
Meanwhile, Vanessa's jealousy threatens her rock-solid relationship with Johnny, who's always had a reputation for being faithful. They've been together for 10 years and have two beautiful children – daughter Lily-Rose, 9, and Jack, 6.

"Vanessa and Johnny are still very much in love," the source pointed out. "In fact, there's been talk about them finally tying the knot this summer.

"Vanessa has been keeping close tabs on Johnny and they've even bickered over how much extra attention her gives to Marion between scenes. But Johnny has assured Vanessa that he only has eyes for her – and she has no need to worry."
[From the National Enquirer, June 9, 2008 print ed]
Johnny Depp seems to be a pretty stand up guy. You never hear anything about him that isn't good anymore. He certainly had has wild oat sewing days, but by all accounts he's been nothing but committed to Vanessa for the ten years they've been together.
When their daughter Lily-Rose almost died from an infection last year, the two were said to grow even closer, and supposedly that's when the really started contemplating marriage. I understand that when you're with a famous, sexy actor you're going to be a little nervous. Especially around an actress who has a reputation for man stealing. But it seems like if there's any guy Vanessa should trust, it's Johnny.
Here's Marion Cotillard at the Oscars on February 8th. Header of Johnny Depp and Vanessa Paradis also at the Oscars. Images thanks to WENN.