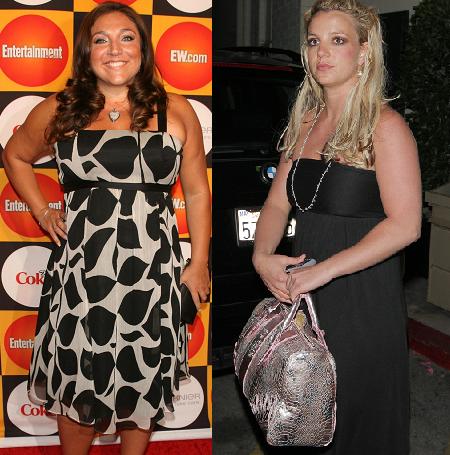 Apparently it is not May. I was wrong. Somehow I was thinking we'd moved forward, but it appears that it's actually still February. Why? Because Supernanny Jo Frost has jumped on the bandwagon and offered to help Britney Spears. Unfortunately that bandwagon left the… wherever they keep bandwagons… back in February. Remember, when every celeb and their cousin was offering to help Britney Spears? Because why wouldn't she want to move in with Heidi Klum? Or be tutored by Ellen DeGeneres? Or go on vacation with Mel Gibson? Alright that one actually happened.
But it was getting pretty darn annoying, all those random celebs saying they wanted to help her, but no one doing anything. Just looking for their friendly sound bite. Though she's a little late with the offer, Frost is definitely not too late – and she's someone who actually has something concrete and useful to offer Brit.
She's no stranger to strangers' homes – but now Supernanny Jo Frost has her eyes on a high profile family: the Spears clan. In a new interview with Entertainment Tonight, Frost offers her childrearing expertise to Britney Spears. "I do believe she loves her children very much and I'd be more than happy to help her," she says in an interview scheduled to air Friday.

"To be able to put her on the right track and feel more empowered as a parent." Frost adds, "Importance in motherhood is about really relating to other mothers, being able to have support groups and it's about Britney being in a place where she's feeling secure and confident in herself, so that she is able to take care of her little ones and give them what they need from her, which is their mother around."

Frost's hit ABC show takes to her people's homes across the country, where she helps parents deal with their children's behavioral issues. Frost tells ET the key to her advice comes from imbuing parents with "the confidence to raise their baby in a healthy and content way."
[From People]
That all sounds like it could actually be really useful for Brit. I've only caught the show once, but I was impressed. Though more than anything I was shocked at the family. Who could be that dumb? How could any parent behave that way? And I've definitely thought that about Britney Spears in the past. It could be the perfect fit. Hopefully Frost is offering out of the goodness of her heart, and not for an episode of her show. Because something tells me even Britney Spears is smart enough not to do that. Or at least her handlers are.