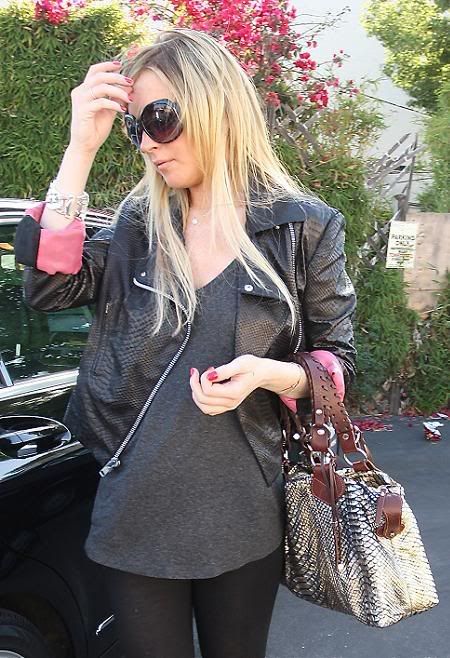 Lindsay Lohan had a busy day annoying the crap out of people. Okay that's not noteworthy in and of itself, but she really upped her usual level of obnoxiousness. On Thursday Lindsay and girlfriend Samantha Ronson flew from New York to Los Angeles. Their seats weren't next to each other, which of course caused a major panic for LiLo. She insisted that flight attendants uproot other passengers so she could have her every whim catered to.
Sources tell TMZ a star-studded flight this morning included Lindsay Lohan and Samantha Ronson, singer James Ingram and Stephen Baldwin — and each group sat in different classes.
Our sources say that patrons on the New York to L.A. flight had to be moved around so LoRon could sit beside each other in business class — and that Lindsay requested a "warm compress" to help her ailing chest. Isn't that what Sammy's there for?
[From TMZ]
Well of course everyone else should rearrange themselves for Lindsay's absolute comfort. Lindsay reportedly started suffering from an asthma attack partway through the flight. Sounds like something Sharon Stone would call karma. She asked for a warm compress for her chest. I'm sure Samantha lovingly applied it. The flight attendants obliged, but after they landed in L.A. Lohan had to go to the hospital.
Actress Lindsay Lohan was hospitalized on Thursday after reportedly having problems due to chronic asthma.

Lohan, 21, was spotted leaving a Los Angeles emergency room with best friend Samantha Ronson. The pair had just returned to California from New York.

Sources tell TMZ.com the "Mean Girls" star spent over two hours in Century City Hospital's E.R. after enduring the six-hour bicoastal flight.

According to reports, the actress began to experience discomfort in her chest and asked flight attendants for a warm compress to ease her pain.
[From the San Francisco Gate]
For some reason Lohan's rep is insisting that she wasn't hospitalized and was simply visiting a sick friend, despite reports to the contrary. I have no idea why she'd feel the need to lie about LiLo's asthma. It's been pretty well documented in the past. I mean yes we'd do our best to speculate that it was something drug related – but that goes for her "visiting a friend" too. Might as well be honest. Either way, rest assured Ms. Lohan is doing just fine, and back to work on her next film, Labor Pains.
Here's Lindsay Lohan walking to the Neil George salon looking tired and without makeup or her hair done on May 19th. Photos thanks to WENN.