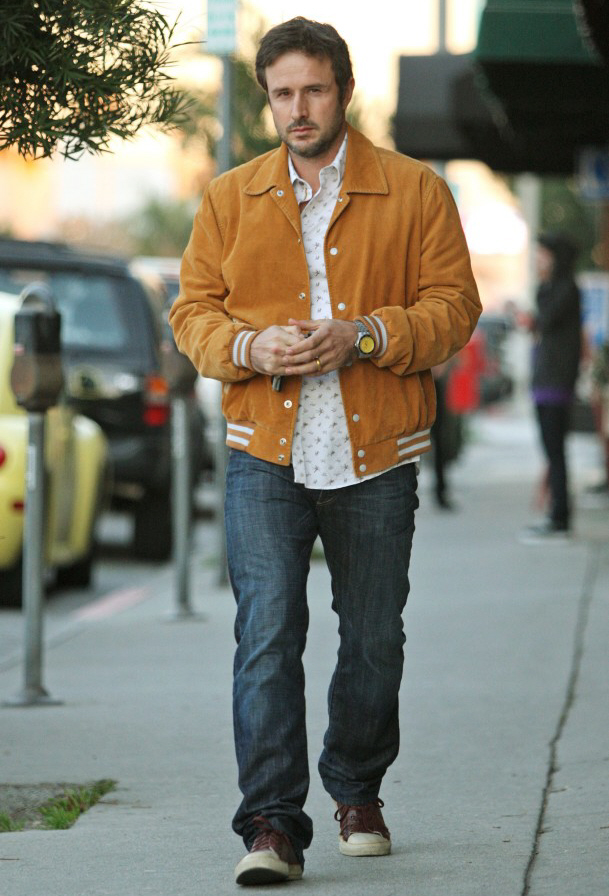 I know some of you have been mentioning this all day, but I had to wait until I could find some transcripts of this sh-t on other sites. This morning, David Arquette called into Howard Stern's show to discuss the announcement of his separation from Courteney Cox, and how they've both been seeing other people… maybe. David just seems to have confirmed that yes, he was sleeping with that Jasmine Waltz chick, the one who allegedly punched Lindsay Lohan. Here are some of the highlights from what David discussed with Stern (who was apparently very nice to him, shock).
David on their separation: "It breaks my heart," he said of their decision to separate, adding that he is "not the one that called this [separation] in order. "I've been begging Courteney to get back with me," he later added. "She's conflicted too."

On what went wrong: During the very candid conversation, Arquette, 39, implied that Cox, 46, grew tired of his kooky ways. For their 11th wedding anniversary this past June, she bought him a motorcycle. "She said to me, 'I don't want to be your mother anymore,'" he recalled. "And I appreciated that about her … She didn't want to tell me, 'Don't do that.' She didn't want to nag me anymore. I've been going to therapy. I'm trying to grow up. I'm trying to be true to myself. Trying to figure out myself and my world, as is she." Without elaborating, Arquette said that he had started doing things that would "embarrass" his wife publicly. (He recalled she once told him not to get any more tattoos.) His kooky behavior probably seemed "charming" to her when they first met on the set of Scream in 1996, he said. "But that stuff starts getting old."

On when they actually split: By the time they started filming Scream 4 in Ann Arbor, Mich., this summer, he said he was "feeling distance." He said they hadn't been intimate "in a month or so." (His wife is "real and emotional… She's an emotional woman and if it doesn't feel right, then she doesn't feel like bonding in that way," he said.)

On being himself within the marriage: He said he remembers telling her, "'If you're not my mother anymore, I am going to be myself.'" He said he found himself going out with the younger castmates and having fun. "She wants me to be who I am," he said of Cox. "She needs to make that decision if this is person she wants to spend her life with or not."

On Courteney's problems: Cox also has had "her issues," Arquette said. "She tries to take on everybody's problems. She's the mother to everyone. That's why she doesn't want to be the mother to me anymore."

On the cheating stories: He denied that anyone cheated. He confirmed that he has gotten intimate with L.A. cocktail waitress Jasmine Waltz ("my one conquest"), but he stressed, "I am a single man" — and they are no longer together. As for reports this past spring that Cox was getting cozy with her Cougar Town costar, Brian Van Holt, Arquette said he confronted her and she denied an affair. "I do believe her … I truly don't think she ever had an affair," he said, adding that if anything perhaps they formed an "emotional" bond. Asked if she ordered the separation because she wanted to see other people, Arquette said, "Maybe. I don't know."

On their daughter Coco: How is daughter Coco coping? When they recently broke the news to her, they took her to the beach and had a picnic. He said they explained to her that "'we're grown-ups .. and grown-ups need to figure out their lives.'" "'Are you guys getting divorced?'" he recalled her asking. "'No, we're taking time off to know … what we want out of our mate better,'" he remembered telling her.

Where David and Courteney are now: Arquette wanted to stress that he and Cox are "still tight. I love her with all my heart and she loves me with all her heart … We're trying to get real with each other, real with ourselves. "I want her to be happy," he later said, "more than I was happiness for myself."
This kind of breaks my heart. David seems… well, if I was Courteney, I would be really worried that I was coming across like a major bitch while my estranged husband pours out his heart in a candid and emotional (and denial-filled?) conversation with Stern. I also feel like David is pretty much indicating that yes, he had a lot of faults, but that Courteney was the one to jump ship, that she was the one to push him away. And you know what? I think David probably is a nice guy. Is he immature and strange and needy? Sure. But Courteney knew what she was getting. She knew what he was like – and maybe I don't blame her so much for being tired of mothering him after more than a decade together. But I do think they split after she had carefully arranged her jump-off, in the form of Brian Van Holt. Just my opinion.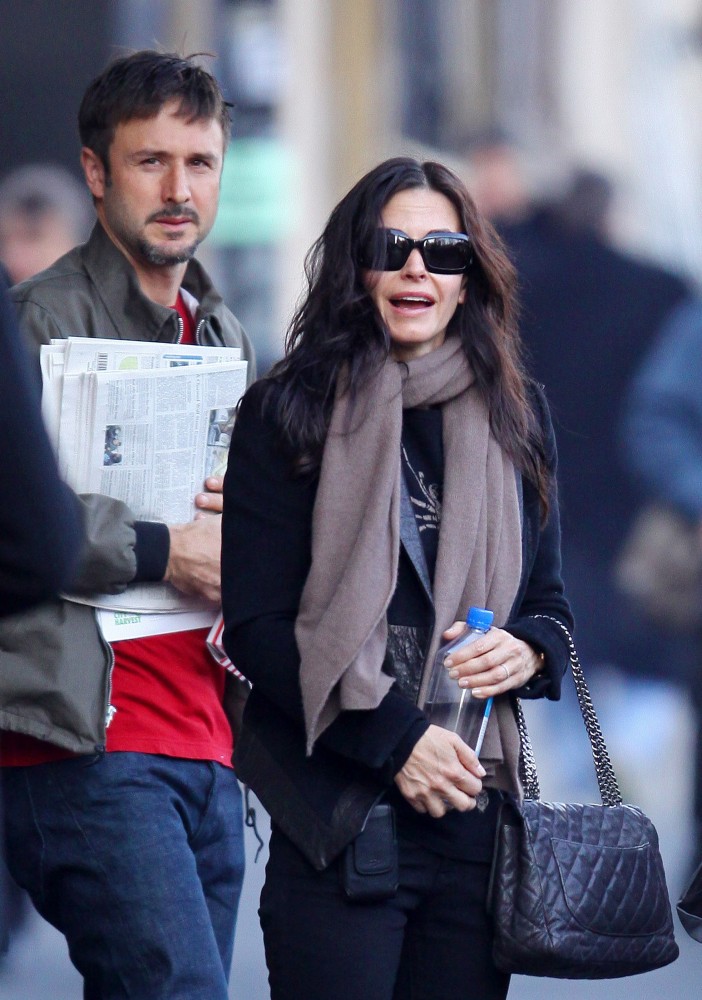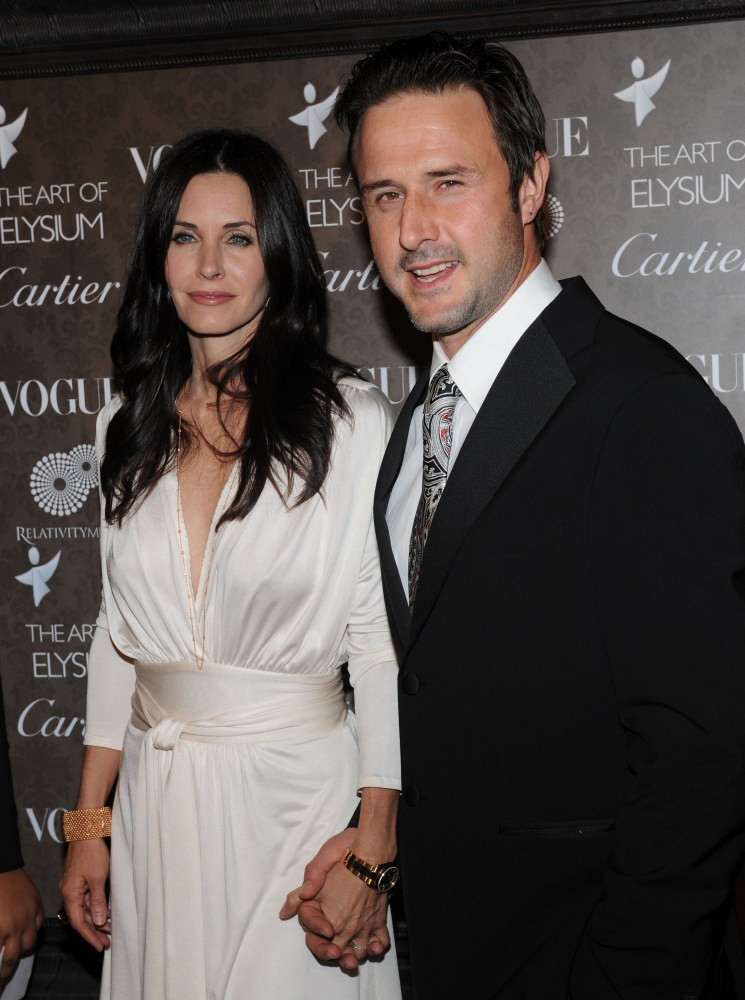 Photos courtesy of Bauer-Griffin.