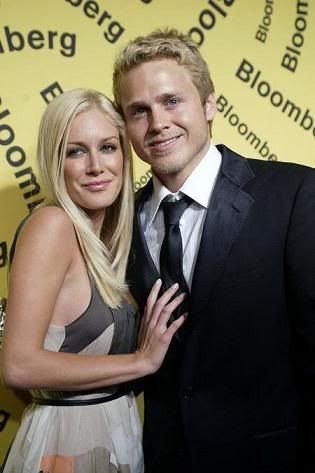 I try really hard not to be one of those people that's always bemoaning the lack of justice and fairness in the world, at least when it comes to material, trivial things. But this is just beyond all of my restraint. According to a report that came out yesterday, Heidi Montag and Spencer Pratt have made over $3 million in the last two years. Yep, all those posed "candid" shots of them going for carriage rides in Central Park and being all lovely dovey in matching outfits at baseball games actually were worth something. A lot of it, in fact.
MTV's "The Hills" Heidi Montag and Spencer Pratt are one the most photo and press-friendly couples on tv, and they know how to cash in on it.

In Touch Weekly claims:
Spencer Pratt and Heidi Montag may be one of the most controversial couples on television — but they're laughing all the way to the bank. Since coupling up on The Hills two years ago, the pair have raked in about $3 million from their TV salaries, club appearances, photo shoots and business deals. "We are trying to entertain in every aspect of our lives," Heidi says. "Reality stars are grasping for their 15 minutes of fame," notes David Scott Sloan, a private wealth services lawyer who doesn't work with them. "And it looks like Heidi and Spencer are trying to make the most of their chance." For Heidi, 21, that means also pursuing a music and acting career. "I plan to win an Oscar," she says. "I'm very ambitious." Although the couple haven't made any money off her singing yet, Spencer, 24, who is also Heidi's manager, is very optimistic about their financial future. "My hustle is just too crazy," he says. "I'm trying to take over the world!"
[From the Huffington Post]
How badly did you just want to throw up? It's that sort of deluded self confidence that leads to people like David Blaine and every reality "star" on the planet. And you know what, I could deal with that. I mean Heidi and Spencer are morons, and totally clueless to the fact that everyone hates them. But now I understand why they're clueless – the pair are making bank. If I had raked in $3 million in two years and people sometimes mentioned I was really disliked, I'd hand them my bank statement and be like, "What were you saying?"
Now I totally understand why Heidi and Spencer don't get how hated they are. And even if they do – and are just playing naive – clearly they're doing a pretty good job at playing the game. This makes me want to punch Spencer Pratt in the ear even harder than before.
Here's a "best of" Heidi and Spencer's contrived candid moments. Images thanks to WENN.