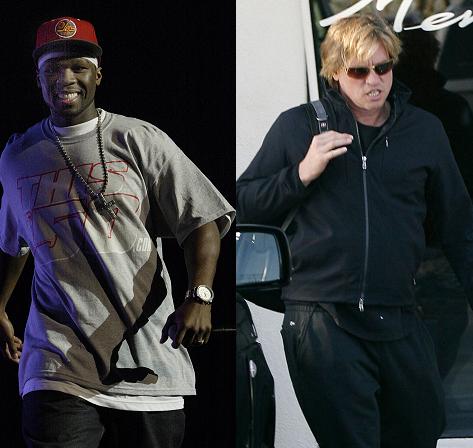 50 Cent and I clearly have a different definition of friendship. And I think I like his a hell of a lot more than mine. While I always thought it meant being there for the other person in good times and bad, occasionally drinking too much with them, complaining about men together, and having the occasional naked pillow fight, 50's idea of friendship involves lavish vintage gifts. And I think that makes a hell of a lot more sense.
50 Cent knows how to treat his costars. Not content to drop off a basket of sugar-free muffins with a note saying "You were totally in the moment," the rapper-thespian gave his Streets of Fire costar Val Kilmer a car, according to In Touch Weekly.

And not some tax-write-off clunker, either.

Fiddy bestowed on Kilmer a 1965 Chevy Impala said to be worth $100,000. The two, who play police officers dealing with the aftermath of Hurricane Katrina, bonded over their appreciation of classic vehicles, which led the rapper to give one of his very own autos to Kilmer.

Really? "Yes he did," Fiddy's rep told us. No word on Kilmer's thank-you plans, but you can be sure of this: Muffins just ain't gonna cut it.
[From E! News]
Sounds like the start of a bromance to me. And what a way to kick it off. At first I thought 50 might have some kind of non-sexual crush on Val Kilmer, a la that famous Seinfeld episode. But then I saw a picture of Val Kilmer, and… I have a policy of never making fun of someone's weight. But let's just say that if there were ever a time I would consider breaking that rule, it'd be right now. So I'm pretty sure there's no crush going on here. But I think that explains E!'s joke about the sugar free muffins.
Either way, I think it's very important that I star in a film with 50 Cent. I'd just like a Honda, thanks.
Header of 50 Cent performing live in Sydney on April 23rd and Val Kilmer leaving Sushiya restaurant in L.A. on March 5th. Images thanks to WENN.