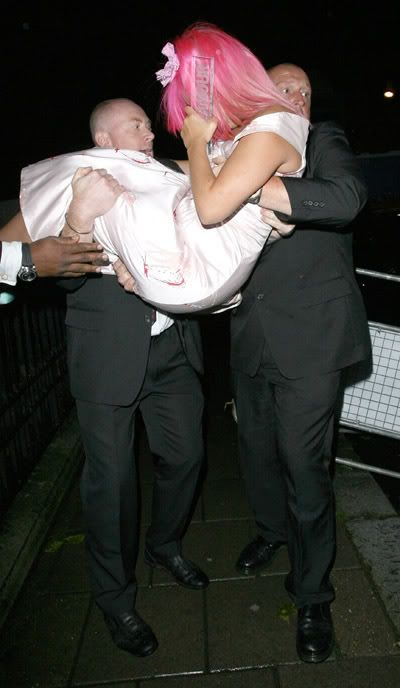 Songstress Lilly Allen was presented with the Editor's Special Award at the Glamour Women of the year awards in London last night. She showed up in a pale pink off the shoulder retro-look cocktail dress with a print of a beheaded deer with blood spurting out of its neck. Lilly's hair was a new shade of cotton candy pink, and she said she did it herself in the bathroom and is "happy with it."
The hair color is cute on her and somehow she makes the baby blue shoes work with that dress by sporting matching blue nails. Her makeup is neutral and I think this look works for her when some additional accessories could have made it ridiculous. If only she could have stayed sober enough to be helped to her car instead of carried. Allen got so wasted at the awards that night that two security guards had to carry her. At one point the guards had to hand her off to two other guys over a fence.
She ventured out today in her Ray Bans to have a coffee and a smoke with a friend, and was likely nursing a wicked hangover. I can see having a few too many at a party, but when it's an industry event like that you should obviously stop short of drinking so much you can't walk. She's still in great shape compared to Winehouse, though.
Thanks to The Daily Mail for the heads up on this story.