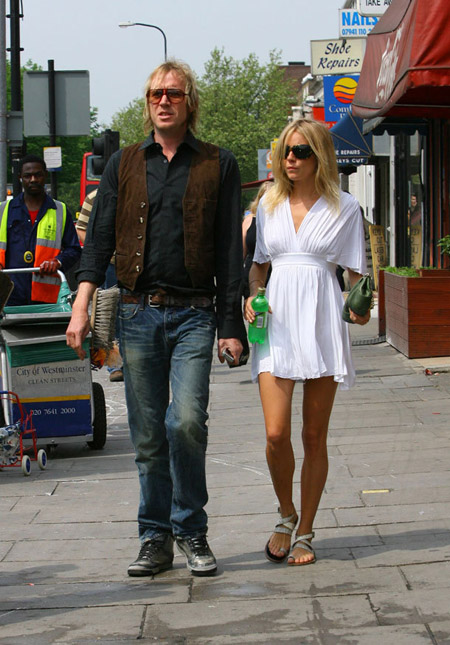 After a feeble attempt to quash breakup rumors by going on in an interview about how great her relationship with Rhys is and how they love to stay home and eat together, Sienna Miller is said to have broke up with the homely actor over the phone.
Supposedly Rhys Ifans, 39, was jealous of Sienna's ex boyfriend, coincidentally named Matthew Rhys, The new Rhys' obsessive behavior and mistrust of Sienna's relationship with the old Rhys is said to have driven her away. The 26 year-old actress called Ifans on the set of his film and told him it's over:
The blonde Alfie star broke the bad news to Welshman Ifans in a tearful phone call last weekend.

She blamed her decision on their long-distance relationship, during which Ifans became suspicious that she had rekindled her romance with Matthew.

But Sienna, 26, insists she and her ex are just good friends — even though she has seen a lot more of Matthew during her regular trips to LA in recent months.

Heartbroken Rhys, 39, received the bad news on the Bristol set of his new film The Boat That Rocked.

A source said: "Sienna broke the news at the weekend in a call from Prague.

"Things have been awkward for a while after she caught Rhys going through her text messages.

"She went bananas and Rhys said he was looking for what he called 'incriminating evidence'. He has been giving her a hard time lately, questioning her commitment to him and the time she puts into the relationship.
[From The Sun]
This is why many actresses are guarded and choose to only give general comments about their relationships or not talk about them at all. It's foolish to go on about the private details of your life that may change at any time. It does get you on the cover of magazines, though.
Sienna Miller and Rhys Ifans are shown on 5/10/08 out in London, thanks to WENN.