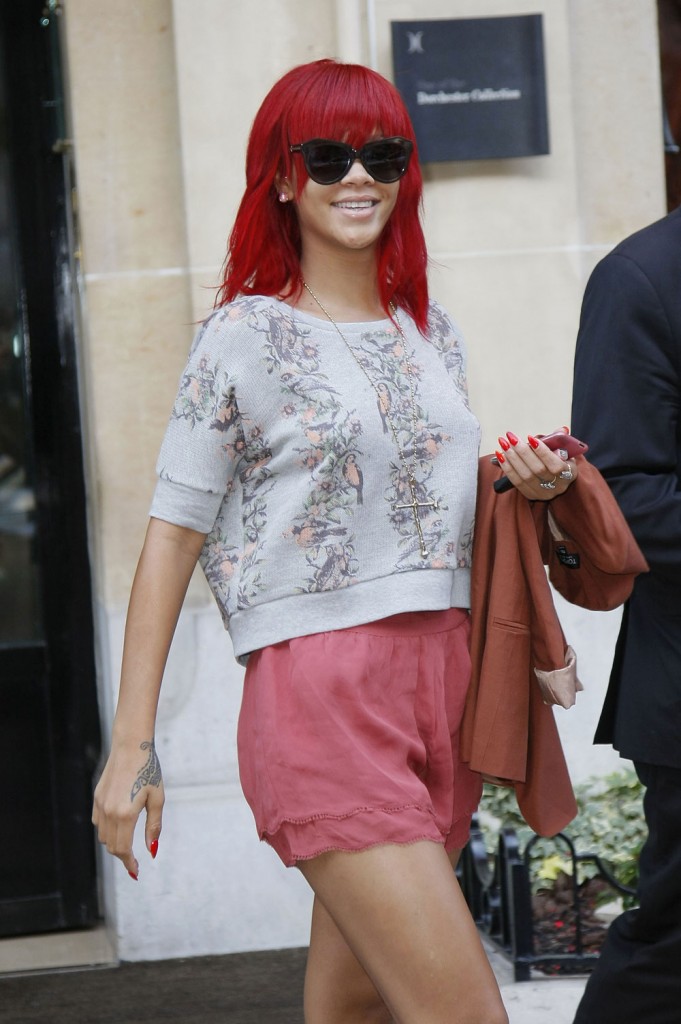 Someone is trying to peddle more photos of Rihanna taken in the hospital after she suffered a brutal beating by then-boyfriend Chris Brown the night before the Grammy awards last year. According to Radar Online, who refused to purchase the photos, there are at least four as-of-yet unreleased images taken by "state employees involved in the investigation." One chilling photo of Rihanna with bruises around her eyes, contusions on both sides of her forehead and cuts around her mouth was published last year by TMZ. TMZ head Harvey Levin defended his decision to post the photo at the time by saying that it was legally purchased, and that it was not technically "stolen" because "we honestly believed it was not an LAPD picture." He added that "this picture was going to get out" anyway. The LAPD launched an internal investigation following the leak of that photo.
I guess we can assume that this new crop of photos will get out too, but there's no doubt that they come from the investigation and weren't taken on the street somewhere as Levin tried to claim about the earlier Rihanna photo. There's also a photo of Chris Brown with a small cut on his lip. Just reading the description of the photos makes me sick to my stomach so you might want to skip the quoted section from Radar below.
Never-before-seen images of a battered Rihanna, reportedly taken at a hospital after her fight with Chris Brown, have leaked.

RadarOnline.com has seen the four images that were offered to this site for publication. We declined.

The photos were taken by a "state employee involved in the investigation" of her then-boyfriend Brown – who assaulted Rihanna the night of the Grammy awards in February 2009 – according to an anonymous source who would not identify themselves to RadarOnline.com.

"They were taken at the hospital," admitted the source, who has been shopping the photos to various other media outlets.

The possible release of the stills would almost certainly cause more outrage. Less graphic images were published online eleven days after the couple's fight nearly two years ago.

After that leak, the Los Angeles Police Department launched an internal investigation and asked for the public's help in finding the source of the photographs.

The photos showed to RadarOnline.com are different to those previously published.

While three of the stills feature Rihanna, a fourth is of Brown seated in a hospital room pictured with a small lesion on his upper lip.

It was widely reported that the battered Umbrella singer became enraged after finding text messages on Brown's cell phone to other women, prompting her to throw the phone at Brown's face. The reports were never verified.

Rihanna – whose real name is Robyn Fenty – is pictured with large welts above each of her eyebrows, marks on both of her cheeks and a split lip.

The most graphic photo is a close-up; her left eye bloodied and bruised, with four lesions on her face and multiple cuts on her bottom lip.

Rihanna, wearing a grey tank top with her short hair pushed off her face, is also photographed in a profile position, showing the right side of her face.

A ruler is being held up which shows the reddish swelling to span two inches – from the bottom of her eye almost all the way down to her mouth.

In another image, Rihanna is shown pulling her busted lips apart to show numerous lacerations on the inside of her mouth.

A worker, wearing a latex glove, is holding up a ruler to her lips.

There appears to be at least five major cuts on the inside of her lips.

LA Laker Matt Barnes Arrested On Domestic Violence Charge

"(I'm) not sure if they where used as evidence, but I'm assuming they were," said the source.

In the one image not seen by RadarOnline.com, Rihanna is captured with a "bite bruised mark on her arm", according to the source.

Brown, an R&B superstar, was arrested on February 8, 2009, and booked on suspicion of making felonious criminal threats to a woman.

Brown was sentenced in August, 2009 to serve five years probation and ordered more than 1,500 hours in "labor-oriented service." He also had to complete 52 weeks of domestic violence counseling.
[From Radar]
That's awful and I hope those photos never get out. It's a gross violation of Rihanna's privacy and needs to be stopped. I can only assume that someone unscrupulous was eventually able to gain access to the photos and that's why it took so long for these to come up for sale. It's really despicable what people will do for cash.
I'm trying to figure out how legal this is. It's surely illegal to purchase property stolen from the police department, although when Harvey Levin spoke to Greta Van Susteren last year she said that it was the LAPD's problem if someone sold their photo to TMZ, not TMZ's. Surely there's something Rihanna's lawyers can do to stop this, but sadly these pictures are probably going to get out before that happens and the damage will already be done. I just really feel for Rihanna. She already went through so much and she doesn't need this coming up again.
Now let's add some levity to this story. I loved this editorial on Go Fug Yourself about how Rihanna may dress foolishly, but it's clear she's just having fun with it and isn't taking herself seriously. Her fashion is entertaining and I'd so prefer to just talk about that. Check out Rihanna's jaunty gray bird sweatshirt paired with some pink lingerie tap pants. She's not wearing lobsters on her head or skintight PVC dresses but she's rocking Ronald McDonald hair and making her own mix and match trends. Let's just hope they never catch on.
Rihanna is shown on 10/7 and 10/8 in Paris. Credit: WENN.com