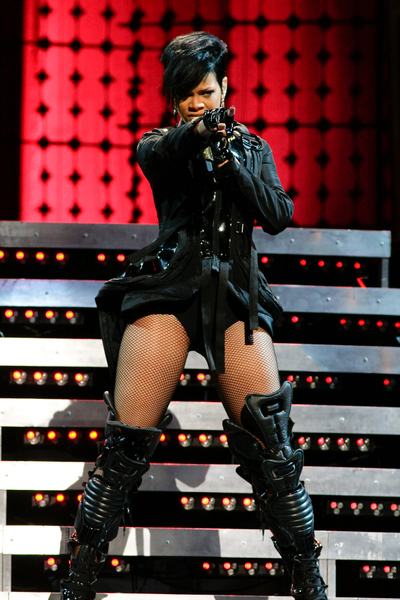 Rihanna issues statement
Rihanna has issued a statement through her representative nearly two weeks after a brutal incident with then-boyfriend Chris Brown. Rihanna was left bruised, bloodied and temporarily unconscious. The police rushed her to the hospital in the back of their cruiser because she was so injured they didn't want to risk waiting for an ambulance. She was unable to perform as scheduled at the biggest event of the year for her industry the next day.
Rihanna spoke out for the first time since allegedly being assaulted by Chris Brown, issuing a statement of thanks to her fans.

"At the request of the authorities, Rihanna is not commenting about the incident involving Chris Brown," says the statement from her rep on Friday. "She wants to assure her fans that she remains strong, is doing well, and deeply appreciates the outpouring of support she has received during this difficult time."

The statement comes on her 21st birthday and a day after she was spotted in Los Angeles after spending nearly two weeks in seclusion.

The singer was photographed Thursday heading to an airport the same night a graphic photo reportedly showing her battered face surfaced on the Internet, upsetting her father, who criticized police for their "sloppy work."

Prior to the statement, neither Rihanna nor her representatives had commented since the arrest of Brown, 19, on Feb. 8

On Friday, friends in Rihanna's native Barbados marked her birthday by taking out an ad in the local paper wishing her a happy 21st "amidst all the negativity about Ri Ri. God will continue to bless her."

"I just really love that girl," Sharon Thompson, who bought the birthday greeting, tells PEOPLE. " Some nights I cry because of what I'm hearing. It has me deeply hurt. She's just so lovely."
[From People]
That statement from Rihanna's people is both reassuring and simply stated. Given the fact that the photo of her terrible injuries just came out, it was definitely needed as people were very concerned about how she was doing. It's nice to hear that she has such caring friends who are rooting for her.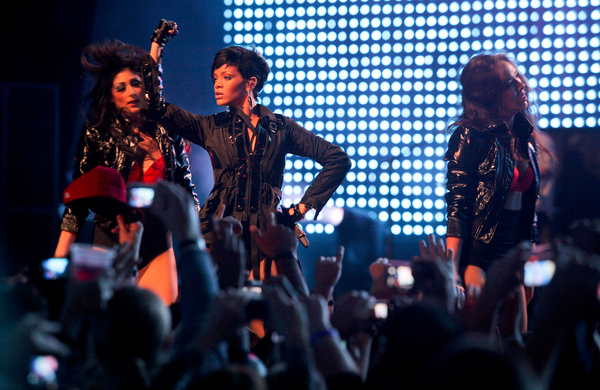 Brown could get away with attempted murder due to leak of Rihanna photo
TMZ has come under plenty of fire for releasing that picture of Rihanna's injuries – on her 21st birthday no less. Not only was it a violation of Rihanna's rights and made a very difficult situation for her even more public, it also may have compromised the prosecution. Website TheMediaBuffet claims to have an insider source at TMZ who says that the Rihanna photo was purchased for $62,500. Even if they have no source and are guessing at the numbers, they make a very good point that the release of this photo could allow Chris Brown to get away with attempted murder without even a slap on the wrist.
Insider TMZ turncoats spilled the numbers Levin's minions are believed to have shelled out for pix taken of Rihanna immediately after the alleged Chris Brown attack. The source of the photo leak, a law enforcement insider close to the investigation, reportedly raked in $62.5k, double the salary of the person suspected of leaking the pic. Sources state TMZ pays a relative or friend of the snitch within 24 hours of receipt of a photo to cover their tracks. TMZ has been in the business of paying high dollar amounts for coveted pix. In 2007 Thomas Riccio, O.J. friend/auctioneer, was paid a mind boggling $165k, our sources say, by check delivered to his home, from TMZ, for photos and recordings related recent memorabilia heist O.J. was jailed for.

The most unfortunate aspect of the the entire incident is not only the total disrespect for the victim, Rihanna, but the legal ramifications related to jury pool pollution the public revelation of this photo obviously has on the possible upcoming criminal case against alleged attacker, Chris Brown. "Brown, even if guilty, could walk free because of the unauthorized release of this photo," says and LAPD source. Insiders say LAPD brass is "furious, subpeonas have already gone out." The fallout for TMZ has begun as advertisers are pulling back from their relationships with TMZ due to the controversy.
[From The Media Buffet, emphasis added - link has photo of battered Rihanna]
TMZ Owner: Photo was not obtained illegally, 'picture was going to get out'
Jossip has footage of an interview in which TMZ owner Harvey Levin justifies the release of the battered photo of Rihanna. Levin said on LA News station KTLA that he was convinced that the photo was obtained legally and was not stolen police evidence.
Harvey Levin: A. It was gotten [sic] legally… and we always adhere to that and

B. When we got the picture, we honestly believed it was not an LAPD picture. I'm still not convinced it is.
I know what the police department said last night, and I had contact with them as well.

And when you read their press release they are not unequivocally saying that it is an LAPD picture, but that was not our understanding yesterday when we posted it. Nonetheless we're not going to talk about where we got it other than the fact that we got it legallty.
[Transcribed from Harvey Levin's appearance on KTLA 2/20/09, via Jossip]
Levin kept insisting the photo wasn't stolen property from the LAPD and went on to justify publishing the photo by saying "She was out on a street… it appears this was taken somewhere on a street…. This picture was going to get out." You can tell from the way that guy talks that he used to work as a lawyer and that he has about zero scruples. When questioned about how the release of the photo might impact the case, Levin turned it around and made an analogy to how KTLA aired the Rodney King beating in 1991. He also brought up the OJ trial in some kind of analogy about how the evidence in a case doesn't really matter.
Jossip has the video of his interview if you'd like to watch it.
TMZ got a lot of traffic and publicity for this photo, but was it worth it? If you don't care about someone's privacy or if you're going to ruin their chances at justice, it probably was.
Rihanna is shown performing at the Super Bowl on 1/29/09. Credit: PRPhotos