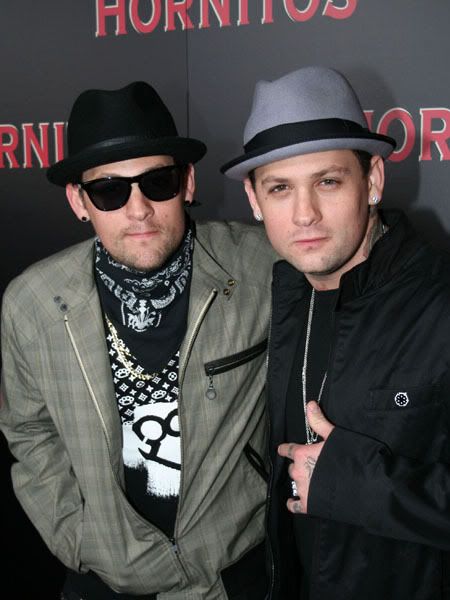 Benji and Joel Madden haven't spoken to their father for more than ten years, after the (now recovering) alcoholic walked out on the family. Father Roger Combs (the boys changed their name to Madden after their mother's maiden name) says that while he had some contact with them over the last three years, it is baby Harlow that has created a common bond. he talks to In Touch magazine about their reunion.
"My kids were mad at me, and I don't blame them," says Roger, who also has a daughter, Sarah, 27, and a son, Josh, 30, with Benji and Joel's mom. Though Joel did start mending fences with Roger three years ago, it was Harlow who really reunited them. "We are good today, and that's all that matters," Roger says.
[From In Touch]
Roger Combs doesn't say whether he has a relationship with his older children. He does add that holding his granddaughter was very special.
"It was a wonderful moment," Roger exclusively tells In Touch. "She's such a beautiful girl. I felt very proud."
In Touch also reports that Nicole reassessed her relationship with her parents, saying that she 'put them through a lot.' Nicole has been to jail, and also rehab, as well as being best friends with Paris Hilton, which would make any parent nervous.
I'm not sure if Roger Combs sold his story to In Touch magazine, or if the Madden twins sold it, or if Roger was just sought out for comment. He might not understand the tabloid scrutiny the Madden brothers are under, and was just being a proud grandparent. He doesn't talk at all about Paris Hilton, or Nicole Richie, who are most likely to result in inflammatory headlines. Hopefully his comments appearing in the press won't create a misunderstanding like Jon Voight and Angelina Jolie's relationship.
Joel and Benji Madden are shown at "Hornitos Tequila celebrates the ultimate 'Cinco de Mayo' experience at Crown Bar" on 5/5/08, thanks to WENN.