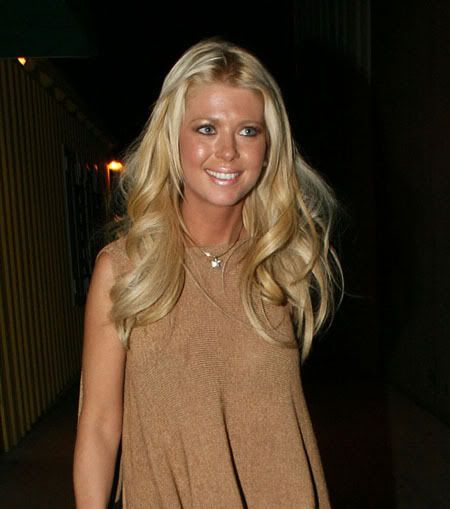 Congratulations are in order for Tara Reid, who got herself a job. The job is in Australia, where I come from, which has so few celebrities even Tara Reid is considered.
Producers have broadened their search for star talent after receiving knock backs from several high-status celebrities, the Daily Telegraph reports.

The production company for Dancing with the Stars, Freehand, is reportedly keen to snare a celebrity star to increase interest in the show since taking over producing rights from Granada.

C-list actor Reid — who pocketed $3500 when she turned up to parties after hosting a "Hooker's Ball" in Darwin last year — has reportedly been asked by Freehand to star on the eighth series of the show.

Potty-mouthed chef Gordon Ramsay and US fashionista Carson Kressley have both rejected similar such offers.

Kressley's Sydney agent Max Markson confirmed he had been approached twice by the show's producers.
Unfortunately, Dancing with the Stars is a few years old now. It's in its eighth season, and I suspect that Tara Reid isn't going to be a big enough draw to bring the ratings up. I also love the fact that she's not even the networks first choice, coming behind Gordon Ramsay and Carson Kressley. The network is obviously confused – Gordon and Carson have jobs, you need to find a celebrity who is currently unemployed. If Tara turns you down, give Lindsay Lohan a try.
Last year Tara had a great holiday in Australia while appearing at the Hooker's Ball, where there was speculation she had been paid as little as $3,500 to attend, dressed as a prostitute. The event also infamously had the word 'American' spelt incorrectly on the posters advertising Tara's appearance.
Tara Reid is shown at the Race to Erase MS Gala on 5/2/08 and outside Foxtail Restaurant on 4/10/08, thanks to WENN.