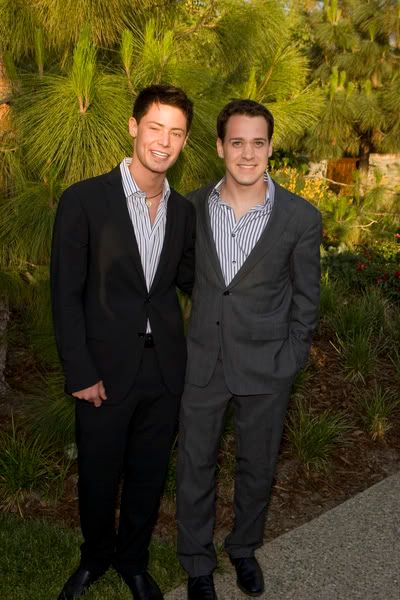 People are speculating that T.R. Knight, 35, and his boyfriend Mark Cornelsen, 19, are getting married. Turns out, they are going to be part of a ceremony, but it is just to launch Gay Pride month.
On June 4, 2008, T.R. Knight will join the Matthew Shepard Foundation to help kick off National Gay-Pride month with a celebration of the California Supreme Court decision and a dusk "commitment to protect our rights" ceremony at the famed West Hollywood hotspot, The Abbey.

At 8pm, couples from around the nation will commit with a "vow to vote no" and support of the campaign to defeat the November ballot measure that would take away the marriage rights granted by the Supreme Court.
Matthew Shepard Foundation press release
The ceremony was strictly ceremonial, this is by no means a commitment between T.R. and his 19-year-old boyfriend Mark Cornelsen. I think that if they were to get married they would be swept up in the excitement of the new laws, and it might not be the most considered decision. By most accounts they've only been dating for a few months. While it's great to join in a civil union with the one you love, the last thing you want to be is the first gay couple to divorce under the new law!
T.R. spoke about the new laws, saying "Once you are given something that you were never allowed before, you realize how much of a second class person you were before," he told Us. "That is horrible and fantastic at the same time. It makes me want to sob and scream with joy all at the same time."
The Matthew Shepard Foundation is named for an American student who was murdered in a hate crime in 1998. The foundation aims to create new laws which are allow the definition of a 'hate crime' to include crimes against homosexuals.
T.R. Knight and Mark Cornelsen are shown at the Chrysalis Butterfly Ball in Brentwood, CA on 5/31/08, thanks to PRPhotos.