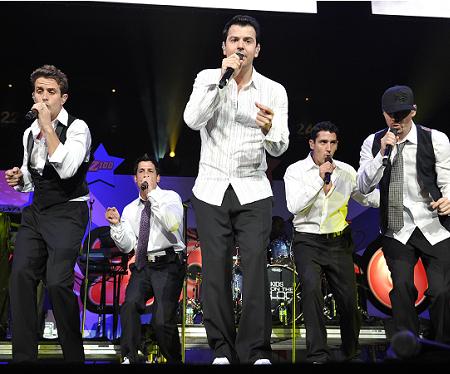 The New Kids on the Block just finished filming the video for their first new single in a billion years, Summertime . Msat wasn't a big fan of their live performance on the Today Show three weeks ago, and I have to agree that they sounded pretty damn spotty live. Supposedly it takes a pretty in shape and athletic performer to be able to sing well and dance at the same time. I can't claim to do either of those things well, so I have no clue, but I'm guessing that being out of the game for so long impacted their performance a bit.
Nonetheless, they seem alright in the studio. Summertime is a pretty generic pop song. I was a pretty big fan of the NKOTB back in second grade, so I'm biased and totally rooting for them. That said, I think the single is just too damn boring – I could attribute it to any nameless boy band out there. But it'll probably get some attention just for the novelty factor. People has a "behind the scenes" look at the filming of the video.
What music video is complete without bikini-clad women dancing? In the final chapter of New Kids on the Block's backstage video – seen on PEOPLE.com exclusively thanks to Interscope Records – the reunited boy band gets dressed up to get down on the tiki-club set in Malibu before working their dance and doo-wop skills in front of a green screen. Once the director wraps filming, Donnie tells the camera: "What started off as a goofy little concept on the BlackBerry at 2 in the morning might turn out to be a video after all!" You be the judge. Tune in to VH1 on June 8 at 2 p.m. to see the entire "Summertime" video.
[From People]
I think the New Kids would have been wiser to do a song that – while still pop – courts their old fans. Something aimed at the mid-twenties-to-early-thirties set. Summertime sounds like the same generic crap I hear aimed at 15-year-olds. Maybe I'm totally wrong, but I don't get the feeling today's high schoolers are into the New Kids. Sad as it is. The video looks fairly cheesy to me – but I still love them. I need to go dig out my old Jordan Knight pillowcases. Even though I totally have a thing for Donnie Wahlberg now.
Here's the first two parts of the making of Summertime. For the final installment you have to visit People's website.
Header of the New Kids performing at at Z100′s Zootopia Concert in East Rutherford, NJ on May 17th. Images thanks to WENN.