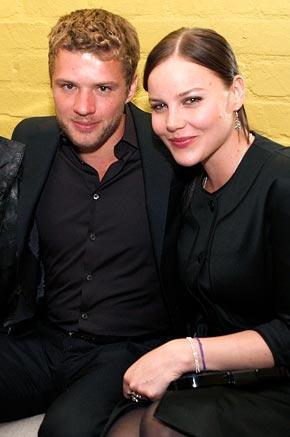 Reese Witherspoon moved on with the hot and hairy Jake Gyllenhaal long ago. Now, Ryan Phillippe is coming out of the straight closet with his new lady love.
"After months of speculation about their relationship, he proudly accompanied his Stop-Loss costar Abbie Cornish to the 2008 Australian in Film Breakthrough Awards – their first major event as a couple."
[People]
Abbie Cornish was "the other woman" that has been rumored to be at the center of the downfall of power couple Ryan and Reese. Sources saw the two kissing and sharing intimate moments at a Japanese restaurant while Philippe was still married to Witherspoon. Divorce followed and soon after denial and defense was Ryan's strategy when it came to interviews.
Photos of the two kissing and sharing a cigarette spoke volumes to the contrary. Cornish is already rumored to be pregnant with Ryan's love child. She failed to show up to several premieres and the only recent photo shows her sitting down in some hideous black jacket. Perhaps this is the reason for their first public outing.
Now Ryan and Abbie have made their debut. Fellow guests described them as "adorable" and stated that he had his arm around her and appeared "cozy" and "comfortable." He also let her enjoy the bulk of the attention. While she worked the room, Ryan stood back and took his usual position as supporting actor.
Gee, it is not like we didn't know that he was shoplifting some Cornish this entire time. No matter, I still say that it is completely unfair that Reese has gotten to nail two of the men on my "Celebs I Want to Make Sweet, Sweet Love To" list.