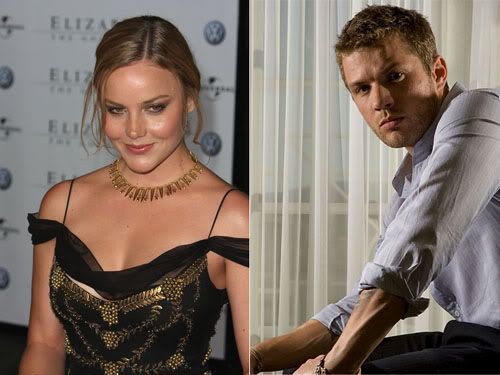 The Huffington Post points to a throwaway mention in the Fox411 Entertainment column, in which Roger Friedman gives Stop Loss a glowing review and mentions as an aside that Ryan Phillippe's presumed girlfriend, Abbie Cornish, is pregnant:
Phillippe is not the only good actor working in "Stop Loss." Peirce has stocked the film with talent: Channing Tatum and Joseph Gordon-Levitt are his army buddies, Abbie Cornish (whom Phillippe met on the set and apparently is having a child with) and Timothy Olyphant also are featured to great effect.
[From Fox411 via Huffington Post]
This made me scour the photo agencies for recent photos of Cornish and she didn't show up at the premiere of Stop Loss on March 18th. The last event photos I could find of her were at the Sydney premiere of Elizabeth: The Golden Age in November. The most recent paparazzi photos I could find are from December and she was seen kissing Ryan and hanging out with his kids. Cornish was wearing a loose top but she didn't look pregnant or anything from those faraway photos.
Fox news could be right, and it seems curious that Cornish didn't show up at the premiere, but maybe she just wants to keep a low profile after all the rumors.
Phillippe has gone a long way toward repairing his image recently with candid and funny interviews on the talk show circuit. He held his own with Howard Stern last week, and came across as both open and gracious about his divorce and his ex wife's new boyfriend. He didn't directly answer a question about whether an affair with Cornish broke up his relationship with Reese, and answered "That's what they say. It's funny to me. A story gets told and then it becomes truth to everyone else. And unless you hold some kind of bizarre press conference where you refute everything … they take on a life of their own." Ryan also said "no comment" when asked about Abbie by a USA Today journalist.
We'll have to see if Cornish resurfaces and if she looks pregnant. When Stern asked Phillippe if he would consider getting married again, he said "I would imagine someday, yeah."
Ryan repeated that sentiment to USA Today, adding that he would like to have more children too:
"I can see doing it again, yeah. And I can certainly see possibly having children again. I'm pretty young, and there are many beautiful things about that idea of marriage and family. It just doesn't always work out perfect for everybody. But I've done all I'm going to do in terms of talking about that part. It's fair to her [Reese] and fair to myself to move on."
Abbie Cornish is shown below on 11/4/07 at the premiere of Elizabeth: The Golden Age in Sydney, thanks to Splash News. These photos are not to show that she looks pregnant here at all, they are just the last event pictures I could find. She is seen in the header on 10/1 at the Elizabeth premiere in LA. Still of Ryan Phillippe is from USA Today.