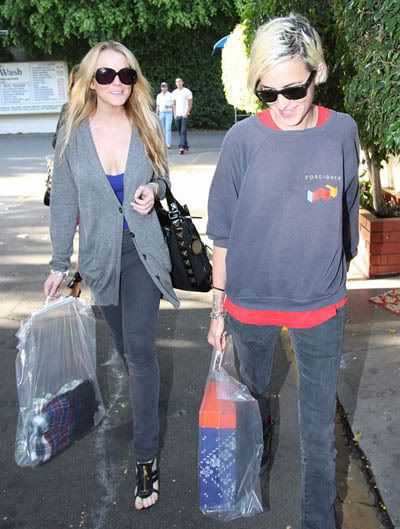 Most insurance agencies refused to cover Lindsay Lohan's new film, Labor Pains, due to the actress' bad reputation and history of multiple DUI and rehab stays. It was only after the producer, Rick Schwartz, vehemently vouched for her that he was able to find a company that was willing to back him. Producers swear that Lohan has been nothing but professional during their meetings the past few months and that she's always been early and is "rehearsing every day with energy and focus":
"Labor Pains" producer Rick Schwartz kept getting turned down by insurers, an informed source tells us.

"[Schwartz] could only find one insurance company to cover her, and even then he really had to vouch for her."

As Carrie Fisher wrote in "Postcards From the Edge," actors with a history of drug and alcohol abuse, to which Lohan has admitted, have difficulty getting film insurance. Lohan is still on probation for two DUI arrests last year…

The movie will be made whether or not there's an actors strike, since the union gave Schwartz a waiver, Variety reported.

"Lindsay is a tremendously talented actress," said Plum Pictures' Celine Rattray, who's co-producing the film. "We have spent a lot of time with her over the last three months, and she has really impressed us with her work ethic.

"She comes to every meeting 15 minutes early, to the point where she has shown up a few times before we were ready for her. She is rehearsing every day with energy and focus. She is lovely to her co-stars and the crew.

"We got her insured in the film, and our insurance and bond reps have also been impressed with her good behavior."
[From The NY Daily News]
Labor Pains stars Lohan as a woman who fakes a pregnancy in order to save her job. The NY Daily News says that the script "is hilarious," and that it could be "just the sort of romantic comedy that could turn [Lindsay's] career around."
Lindsay may seem to have mellowed out for now, but the minute she has trouble in her relationship with Sam she's going to hit the skids. Maybe she'll prove everyone wrong and pull some big career comeback out of her skinny ass, but the odds are stacked against her. That's why virtually every insurance company turned down her movie. The insurance company they ended up with is probably full of old dudes who don't have wives, daughters or sons who pay attention to celebrity gossip who could inform them that they were making a massive mistake. Even if she completes this film without a lot of drama, it's not like she has the star power to draw an audience. All her films last year were flops.
Lindsay Lohan and Samantha Ronson are shown waiting with a friend while Lindsay's car is cleaned yesterday, thanks to WENN.