Do you know how stupid Joe Simpson is? So stupid. Ridiculously stupid. Even dumber than Jessica. So, Jessica somehow managed to get herself a PBS special for Christmas. They filmed the special a few days ago, and I guess the idea was to have Jessica singing and talking about Jesus and how much she supported the troops. In and of itself, totally harmless and rather nice. But Papa Joe had to f-ck it up. Jessica was supposed to sing with a singing troop composed of Iraq and Afghanistan veterans, but the veterans were sent away by Papa Joe – because he deemed them too "scruffy." Stupid stupid stupid.
The team behind Jessica Simpson has been accused of snubbing a group of Iraq and Afghanistan veterans after their combat fatigues were deemed too scruffy to join her on stage for a glamorous TV special. The 4Troops, a singing group of combat veterans, were told their camouflage gear was not fancy enough to sing with Simpson on her PBS Christmas special filmed at the Roseland Ballroom on Thursday.

A source told Page Six, "Jessica's dad, Joe Simpson, effectively kicked them off the show because he didn't like what they were wearing. They were in camo pants and blazers, the same outfits they wore to sing for Gen. David Petraeus on the USS Intrepid. They were told they couldn't perform unless they were wearing tuxedos."

"They waited for six hours until midnight only to be told their number with Jessica had been cut from the show," the source said. "The irony was Jessica was on stage saying how much she supports and admires the troops, and the veterans were stuck in a room in the basement. Instead of enduring more humiliation, the veterans left."

4Troops consists of former Sgt. Daniel Jens, who was deployed in Iraq in 2007; former Capt. Meredith Melcher, who also served in Iraq; Staff Sgt. Ron Henry, who retired from the Army after a 20-year career; and former Sgt. David Clemo, who did tours in Afghanistan and Iraq.

A spokeswoman for 4Troops said, "Joe should be ashamed of himself." Jens said, "I am so disappointed and angry, I threw up when I got back to my room."

Simpson's rep said: "The song was cut due to time. Jessica wasn't even aware. She is wholeheartedly devoted to the troops. She just returned from the Persian Gulf where she performed for and met with service men and women stationed at several different locations. The military was the source of inspiration for her entire Christmas album, so much so that she recorded a duet for the album with a USS Harry Truman sailor."
[From Page Six]
That's just horrible. And as much as I'd like to blame Jess for it, it sounds like she was truly out of loop, and that it was Joe's decision. Although, I will blame Jess for keeping her dad as her manager, despite his history of f-cking awful business decisions on her behalf. He's a terrible manager, and after the first few f-ckups, you would think Jessica would have fired him and gotten a real manager who would be smart enough to let her sing with veterans, no matter what they looked like.
In additional Jessica news, she gave another loved-up interview to People Magazine, all about how Eric Johnson is her forever dong or whatever:
Jessica Simpson is one busy soul: In the past month, she's traveled to the Middle East to meet troops, while on Thursday night she performed songs from her upcoming Christmas album for a PBS special to air Thanksgiving. There to support her? Her dad Joe, sister Ashlee, nephew Bronx – and her boyfriend of several months, Eric Johnson.

"He went and got a sweater and a bowtie to try to lift my spirits because I've been working extremely hard," Simpson, 30, told PEOPLE after the show. "I laughed my butt off!"

She added, "As far as Eric and I go, we're just best friends. He's my dude! I love him."

The couple began dating in May, and ever since have been spotted getting cozy across the U.S. and overseas – even celebrating her birthday together in Italy. If the relationship seems like it's getting serious, that's because it is. Simpson tells PEOPLE that they're planning to spend Thanksgiving together.

"We're all gonna be in New York," she says. "I'm gonna be on a [Macy's parade] float. It's not always the best way to spend a Thanksgiving, but it's a great way to celebrate. So, maybe I'll just have all families on the float."

For now, Simpson says she and her man are simply enjoying spending time together.

"Tomorrow we're having a long day off," she says. "He loves art. So, we go to art galleries, and he loves photography. It's cool."

"This [relationship] is just normal, thank God," she continues. "He's very, very supportive. [I] couldn't ask for a better man in my life right now."

Which, of course, begs the big question: Is Johnson the one?

"I never go to that because I already went there, so, I'm not gonna jinx my own self," she says. "He's the one for me right now! I'm very happy, I'm in a great place and if right now could last forever, I'd take it."
[From People]
Oh, Jessica. Seriously, DO WE HAVE TO DO THIS EVERY TIME? Girl, we know you believe in love. We know your little pea brain gets hypnotized by the dick. We know because it happens every single time you're getting laid. Just take it down a notch. Just a little.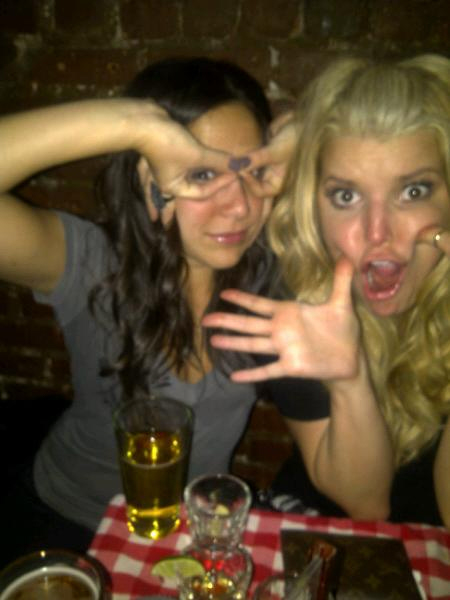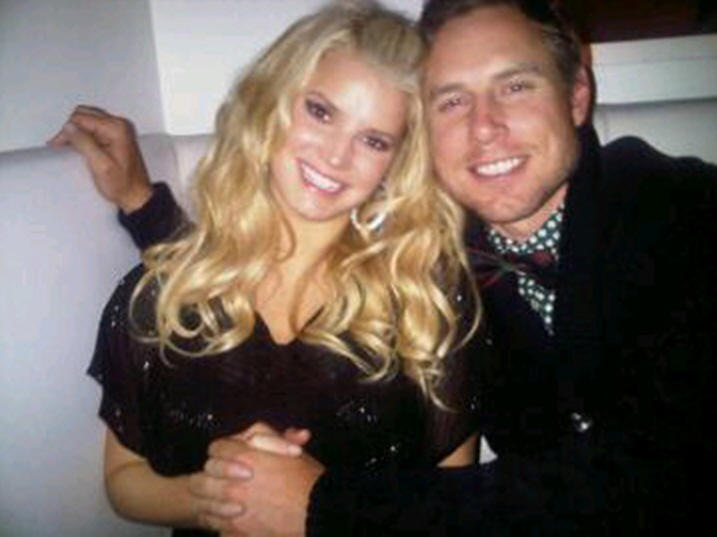 Photos of Eric and Jessica, courtesy of Jess's Twit-pics.