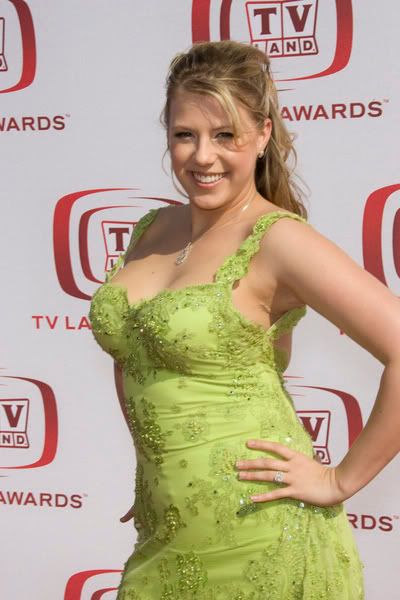 Full House's middle child Jodie Sweetin scored the cover of People Magazine this week with the story of her meth addiction and subsequent journey to sobriety and motherhood. She is a first-time mom to a seven week old baby daughter, Zoie, and has been married to her second husband, a "film transportation coordinator," for 10 months. 26 year-old Sweetin's story has helped many people who are addicted to drugs, according to her husband, who told People that "we get e-mails that say 'Thank you so much. You saved my life.'"
Sweetin's story is one of triumph over addiction, and shows that it can touch people from all walks of life. She says she started doing meth because of her friends, and that "It wasn't so much the allure of it, but the people I was hanging out with. They didn't look like the people in commercials with no teeth. They looked normal and had what I thought were normal lives. It didn't seem scary."
Sweetin claims her husband, a police officer, didn't know what was going on until she ended up in the hospital 6 months after she first started doing meth. She was able to clean up with the help of her family, who she confessed to after her hospitalization. She had six weeks of inpatient treatment and six months of living with sober people from rehab, during which she broke it off with her husband. People doesn't specify where she met her second husband or if he's also in recovery.
Baby Zoie is a joy for Sweetin and her husband. She calls her "amazing" and says "Sometimes I just look at her and go, 'You're so perfect.'"
As for her future ambitions, the former child star says she's "begging to be on Dancing with the Stars," and that "I've danced my whole life."
Sweetin struck quite a few poses on the red carpet for the TV Land Awards in Santa Monica on Sunday. She wore an unflattering lime green embroidered dress with a see-through long paneled skirt and bronze heels. She's definitely a candidate for Dancing With the Stars, but she should ask a friend with taste to come along with her before she buys another outfit for an event. Thanks to PRPhotos for these pictures.