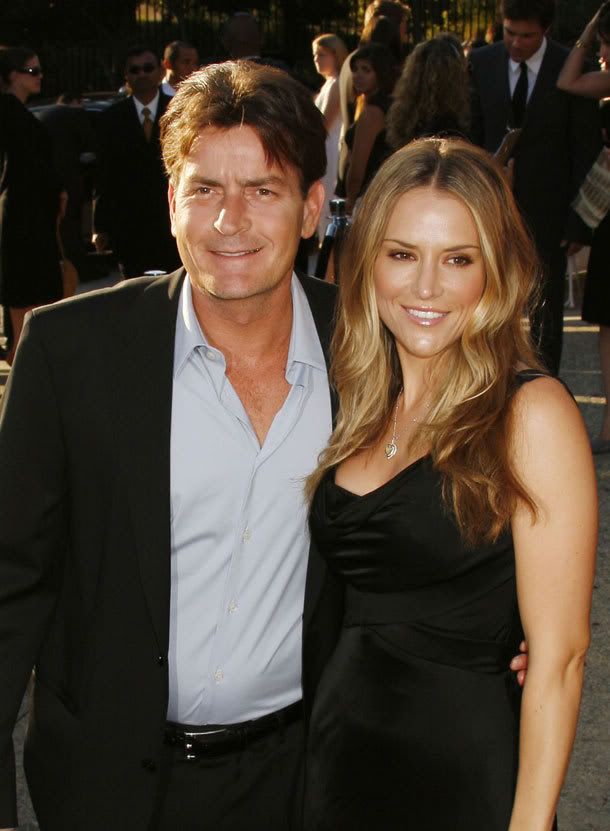 Charlie Sheen and his new bride, Brooke Mueller, have a revealing interview in this week's OK! Magazine to accompany the photos from their wedding. Some of the highlights include the predictably extensive comments about Charlie's ex, Denise Richards, in which he says he's not going to say her name, but he still manages to talk about her a lot. They also say they're trying for a baby right away, but that Brooke isn't pregnant.
Charlie touts the fact that he got his wedding suit from low-cost chain Men's Warehouse, which has suits from around $200 to $600, because he's had problems with designer suits falling apart and he loves their commercials. The bride wore a Reem Acra gown and a headdress made from twigs and woven white wildflowers, in keeping with the ceremony and reception's "nature" theme. Her engagement ring is a whopping 11.64 carats, but she says she's only going to wear her wedding band out. There were 68 guests at the non-denominational ceremony including Charlie's parent's his three brothers, his co-stars, Jon Cryer and Holland Taylor, and their friends Eric Dane and Rebecca Gayheart.
Charlie, why did you go to Men's Wearhouse for your wedding suit?
I like their commercials a lot! I got tired of $3,000 suits falling apart in the middle of certain events. I didn't wear a tux because they're hot and they don't breath.

Are you planning to start trying to have a baby right away.
Charlie: That's the plan.
Brooke: There's a rumor I'm pregnant, and I'm not.

How difficult was it hearing the comments your ex-wife Denise Richards made in the media on the eve of your wedding?
I'm so tired of talking about her and all her shenanigans. It is what it is. I don't even care anymore. I'm going to take a stand to basically never utter her name publicly again, and I think if that's known, it will put an end to some of this drama.

Have you watched her E! reality show?
No, and I won't.

How do you both stay centered amid the craziness?
Brooke: The injustice of it makes me crazy, and it's hard to handle. But Charlie's a pro. He's an amazing father, and to hear what she is saying is so difficult. I want to protecthim.
Charlie: I think it's not accident that whatsherface chose this time to do what she did. It's pretty obvious that Brooke and I, through our actions and union, are moving on with our lives. Perhaps somebody else should consider the same.
[From OK! Magazine, print edition, June 16, 2008]
Brooke and Charlie are probably obligated to talk about Denise by whatever large sum they received from OK! for exclusive rights to their wedding photos. You can't help but think that fighting that harpie together helped unite them in a common cause and brought them closer together. Even though they say they're moving on, you can definitely sense some triumph in their decision to get married and show a united front.
This week's National Enquirer reports a sad rumor that Brooke suffered a miscarriage 10 weeks into a pregnancy just a week before their wedding. I hope that's not true. They also say that Charlie wore a "black Pronto Uomo suit." The most expensive Pronto Uomo suit on Men's Wearhouse.com costs $500. It's possible that Sheen was paid for an endorsement, but it sounds pretty genuine considering that he says he loves the commercials.
Charlie Sheen and Brooke Mueller are shown at the Chrysalis Butterfly Ball on 5/31/08, thanks to WENN.