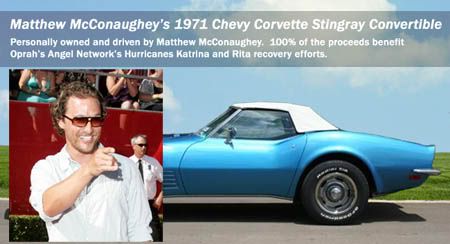 Hero Matthew McConaughey, who routinely saves kittens, children, and swooning middle-aged women from the brink of death, is auctioning off his 1971 Corvette Stingray Convertible on eBay to benefit Oprah's Angel Network charity. Notice how all the "G"s are removed from the ends of words in the item description to make McConaughey's quotes more believable. It looks like a search and replace job:
"I've gone to Mexico & back in it, driven across Texas in it…lotta late night drives…take off at midnight and get on the open highway with the top down…top was very seldom up in my drives. Enough room in the trunk for one persons back pack, or two for real light travel."

"I admire and enjoy this car, but it's a luxury that I'm willin to relinquish at this point because I am fortunate enough to have everythin I need, and the sale of it will help so many with the necessities in life…part of stayin connected with an on-goin cause to help those in need for the long term…besides, I can't pull my Airstream with it!"
[via]
With so many hours of drive time, the car's going to have that authentic McConaughey smell that even the most thorough detailing job won't be able to eliminate.
Here are pictures of the car from eBay and some photos of McConaughey arriving at the ESPY awards on July 12th. [via] He looks like he went biking with Lance and Jake beforehand. If you can't grow a full beard, don't bother.